Hairpiece: Forever 21
Earrings: thrifted, Seek
Fur shrug: gift (thanks Mom)
Cardigan: J Crew
Blouse: Forever 21
Belt: Banana Republic, gift (thanks Mom)
Skirt: thrifted, gift (thanks Mai)
Tights: Ralph Lauren
Shoes: Nine West
Today's outfit is inspired entirely by the book I'm reading right now! If you saw yesterday's post, you caught which one it is:
The Beautiful and Damned
, by good 'ol FScott.
(Must say, if twitter were around when he was, FScott (Or FScottFitz, for that matter) would be such a baller account name. Oh by the way I'm on twitter. @SWIILPTblog)
The Beautiful and Damned
takes place is the magical New York 1920s. This book is gorgeous and massively depressing. In the beginning, though, it's light on the angst and heavy on the irony; we're invited to imagine everything is as peachy as the characters think it is. The primary players are Anthony Patch and his wife Gloria - this outfit is an ode to Gloria.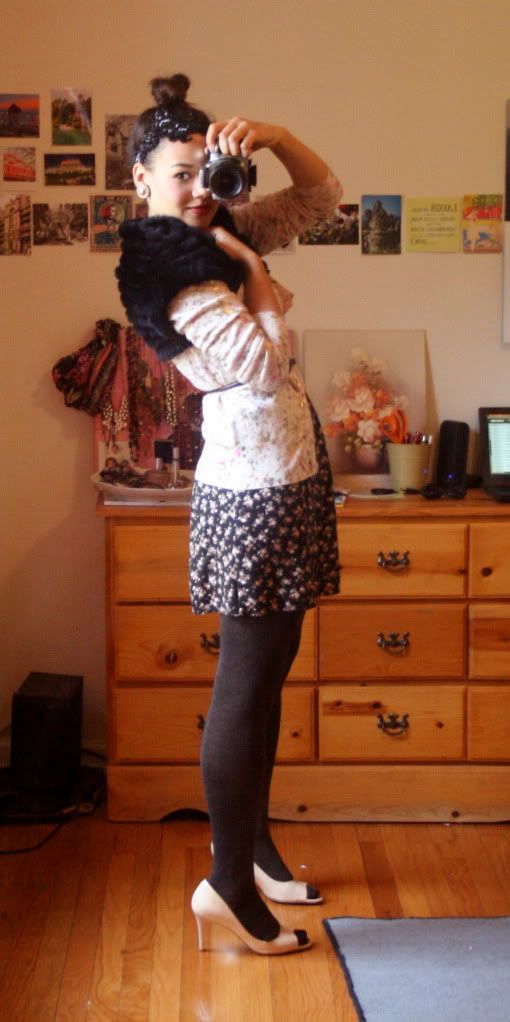 Have I actually worn this outfit? Absolutely not. But am I now waiting with bated breath for the perfect moment to wear it? You bet.
I know, I know, there are four million things going on. Who's surprised, though.
By the way guys, what are your feelings on open-toed shoes with tights?
I never knew it was a thing until I was out with a friend recently and she could not stop pointing out how silly I looked with open toed heels and black tights. I mean, why not? I think a peek of covered toe is goofy and fun. She said it made me look like a child playing dress up...which, hm. Maybe I am to some degree. Is it dumb though? Or is it awesome? Honesty = welcome.

The extra layer on the neckline of this blouse is what convinced me to buy it long, long ago - I still get excited about wearing it. The silk ruffle plus the gold pattern on the cardigan plus the fake fur shrug...adds up, I know. But, more is more in this case.


Headpiece, last seen:
here
Blouse, and skirt, last seen:
here
(collab with
My Closet in Sketches
)
Shoes, last seen:
here
A toast to dressing up - to Gloria, her Anthony, and their glorious twenties.
And to surviving NovaBlitz! I did it! Thanks for reading along, dudes! You da best!
@SWIILPTblog
Bloglovin'
♥