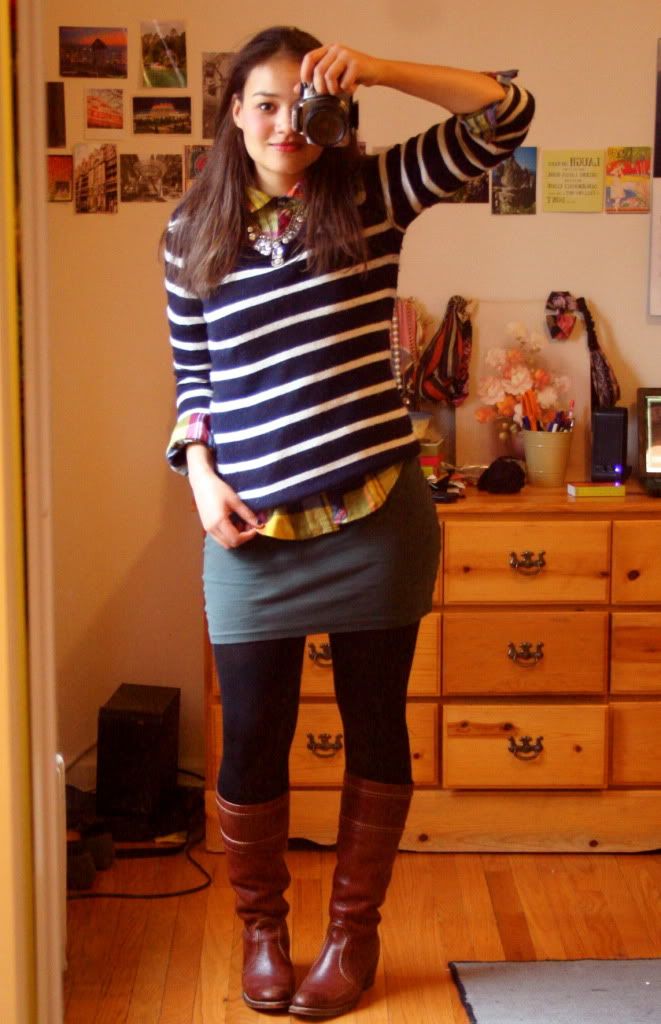 Shirt: Urban Outfitters (available here)
Sweater: Banana Republic
Necklace: gift, Ann Taylor (thanks Mom)
Leggings: Anthropologie (available here)
Boots: Frye (available here)
Bag: gift, Kate Spade (thanks Mai)
Gloves: gift, J Crew (thanks Danielle) (available here)
Guys, I had a 6 whole unscheduled hours on Tuesday! Which meant I spent an extremely glamorous morning grocery shopping, buying postcards, and cleaning my apartment. Can you even believe the glitz of my life?
This is what I wore.
Now that Thanksgiving has passed, I've begun the surgery of lowering myself into the miserable state of acceptance that is the yearly trudge through...god I don't even want to type it...winter. I was absolutely FREEZING while taking these pictures - hence why I didn't spend any extra time worrying about things like, oh I don't know, camera focus. Apologies! My hands were so cold.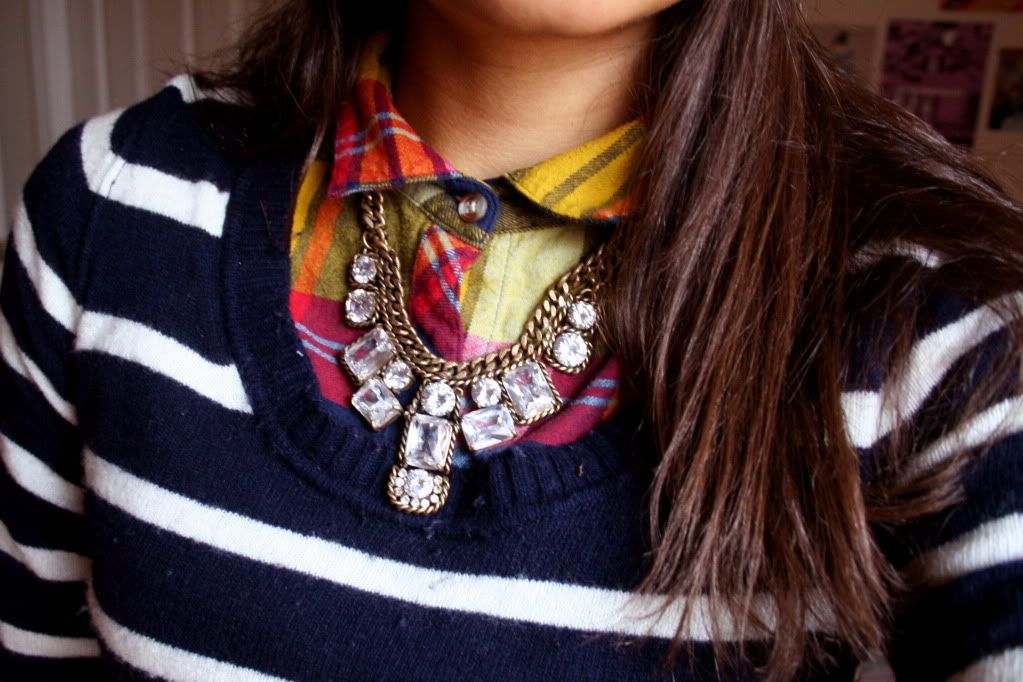 All of the pieces I'm wearing in this outfit have been very well loved. Check the slightly broken chain on the necklace or the crazy pilling on the sweater for proof.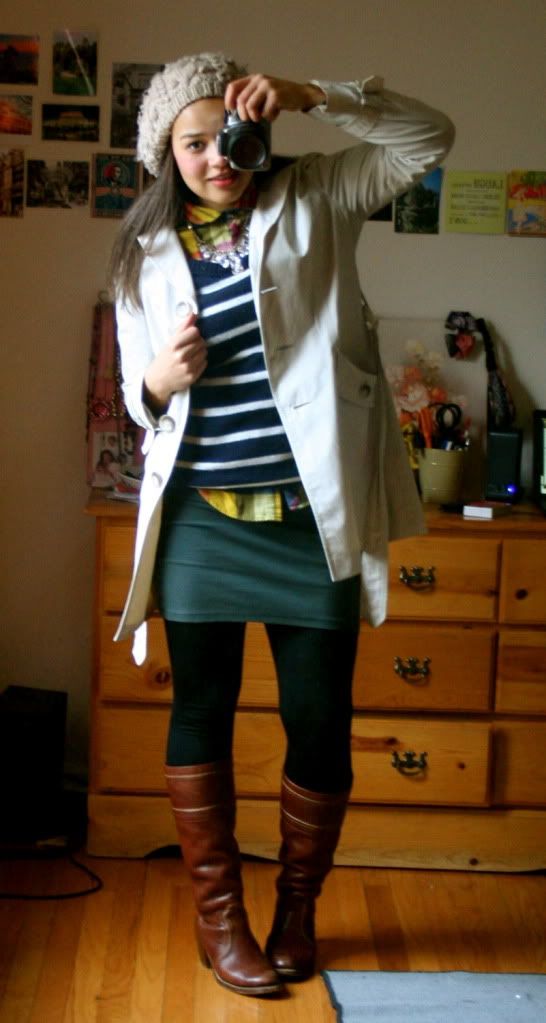 This gem of a hat has spent the last 5 years keeping my ears warm, I can't imagine winter without it. And I think I can safely say Tuesday was the last day I'll get away with wearing a trench - it's just too cold now. Sigh.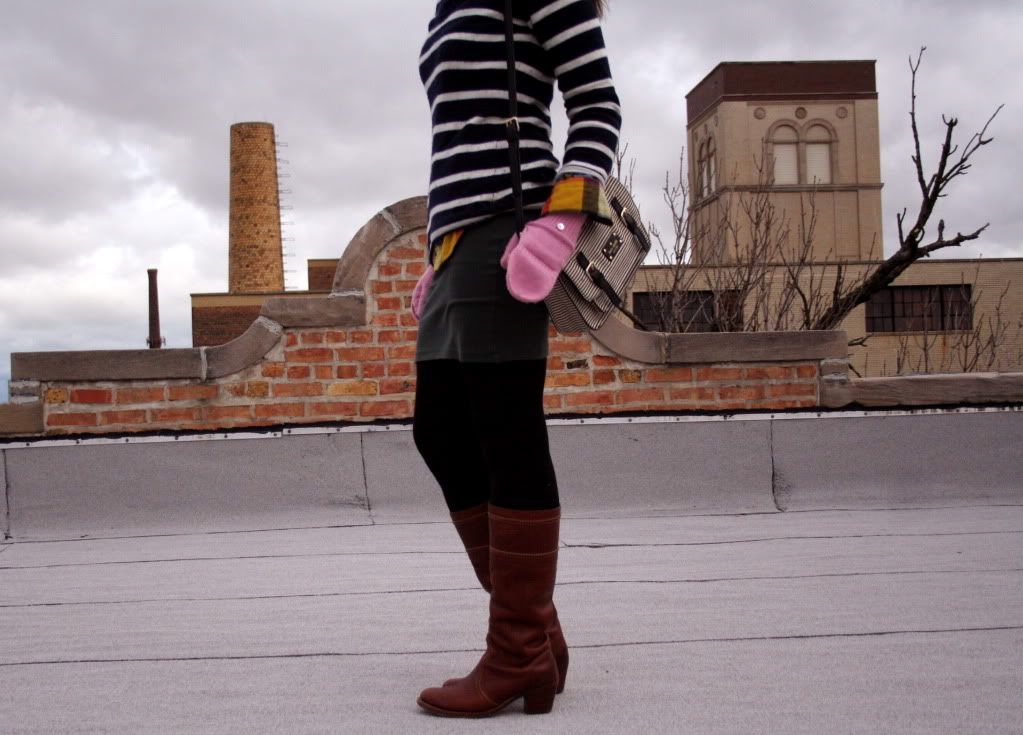 For the record, I really dislike leggings. They kinda make people lazy and zap sartorial creativity. Mostly I dislike them because like 70% of the population refuses to accept the truth that THEY ARE NOT, IN FACT, PANTS. They are not meant to replace pants - aka, you cannot wear them without also covering your ass. Don't even get me started on this rant. (Also, if you're ever in a pickle and need to make sure you're actually wearing pants, never fear,
Buzzfeed has a handy flow chart for you
.)
All that said, these are the best leggings on earth. They are fleecelined and thus magically cozy. But bet your bottom dollar, I will NEVER wear them without a skirt/dress/tunic.

I've never worn this top buttoned all the way up before - it's really constricting this way, but I don't care. It's so dapper and fun.
Man it was windy!
♥
PS. Breaking from blogging last week got me thinking, and thinking got me needing to vent about some stuff. Expect a very wordy post about the not-so-glittery truths of So What If I Like Pretty Things, blogging and the like in the near future.