Scarf: Anthropologie
Tank: Urban Outfitters
Button-down: Forever 21
Sweater: Ann Taylor
Pants: Joe's Visionaire
Shoes: gift, Ann Taylor (thanks Mom)
Necklace: gift, handmade by Blorange Dice (thanks Laura!)
I've worn two versions of this outfit in the past 5 days: this is a mash-up of both of them.
The original had the scarf, the remix had the heels & necklace.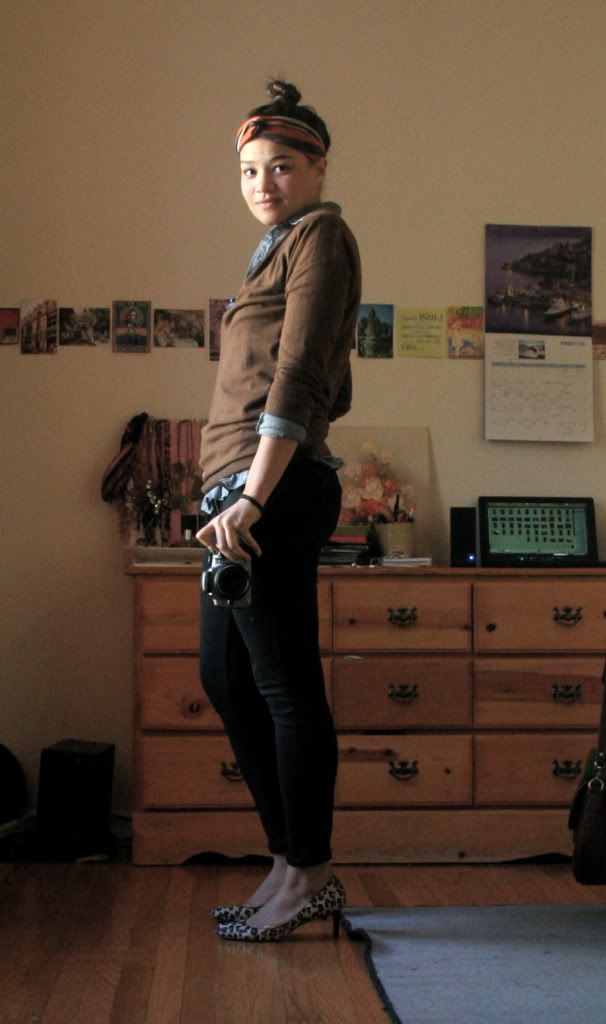 I'm not even going to post how much I paid for the pants. An angry fashionable mob will come to my house and beat me with their wedge heels. But yeah, they're pretty great! I usually don't buy Joe's because they stretch so much, but these have held on.
The outfit is simple so the accessories do the heavy lifting here - a new scarfy-headband (I should patent that word), since I can't stop wearing scarfy-headbands, and a beautiful gem of a necklace made by the lovely Laura of
Blorange Dice
. The similar orange-y tones also balance the leopard print shoes.
I wore this working and drinking. And also shopping!
(I looked up my birthday in a fortune-telling birthday book yesterday and it said something about how I need to work and play equally hard, and be good at both. IT'S LIKE THEY ARE READING MY MIND!)
Hey guys, what are you gonna be for Halloween??
I just decided a couple of days ago and I can't wait!
Tell me!
@SWIILPTblog
♥