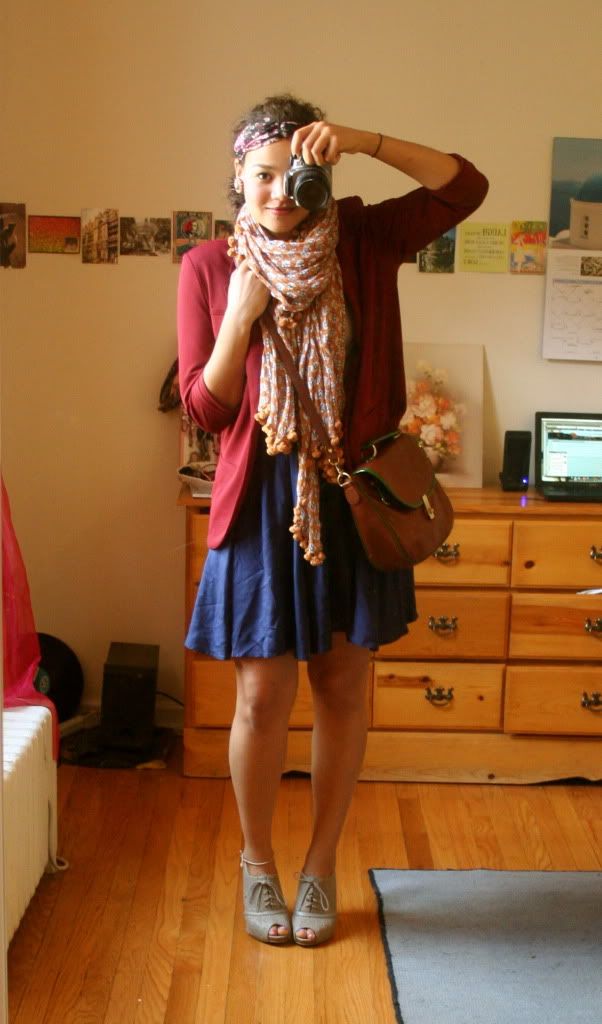 Blazer: Forever 21
Shirt: gift, Banana Republic (thanks Mom)
Skirt: Urban Outfitters
Headband: Forever 21
Earrings: vintage, from Seek
Scarf: Anthropologie
Purse: Anthropologie
Shoes: Payless
Nailpolish: Essie, "Licorice" and "Borrowed & Blue"
Lipstick: Clinique Different Lipstick, "Spiced Apple"
Another Pretending-I'm-A-Student outfit. Guess who misses school.........
I wore this to work and drinks yesterday.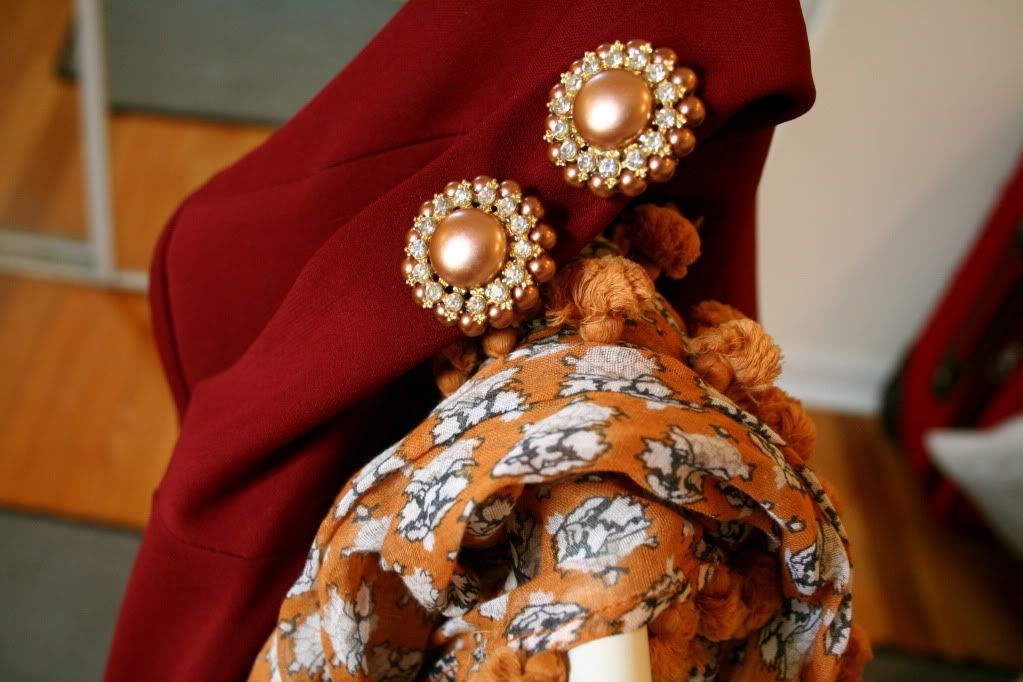 The earrings were the starter for the whole outfit - I found them on my thrifting adventure with
Laura
earlier this month. I wanted to wear them with something formal, but with lots of pattern so it didn't feel stodgy. Hence the floral/orange/pom-pom-y scarf and headband.
Oh the blazer. I adore it, but the more I look at it,
the more I see a Hilton Hotel bellhop.
Oh well! Bellhop chic it is.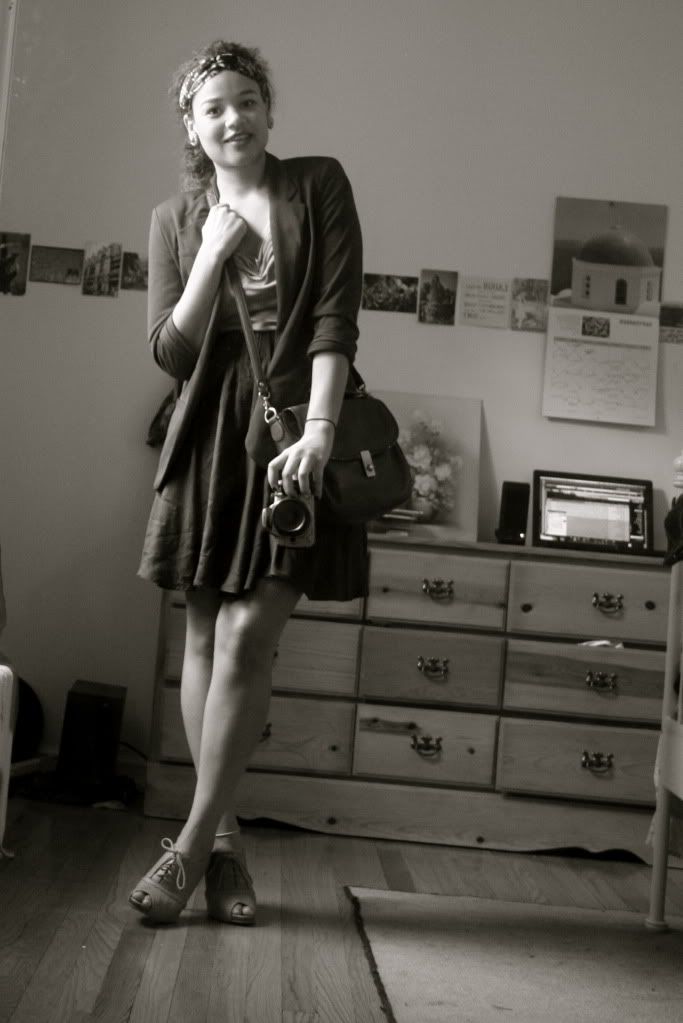 I never had to wear a uniform past age 7 despite attending Catholic school for several more years, but we did have an absurdly strict dress code that I took great delight in violating. (I was personally responsible for new legislation forbidding the wearing of tiaras - no joke.) Though I would have hated wearing one then, a uniform sounds like a dreamy time-saver to me now...
Underneath the layers this outfit is made of two simple cotton pieces. An old Banana Republic t-shirt my Mom passed down to me (in a perfect color and cut, surprise surprise, my mom wins again), and the Urban Outfitters skirt I just bought that's already been on the blog
here
and
here
.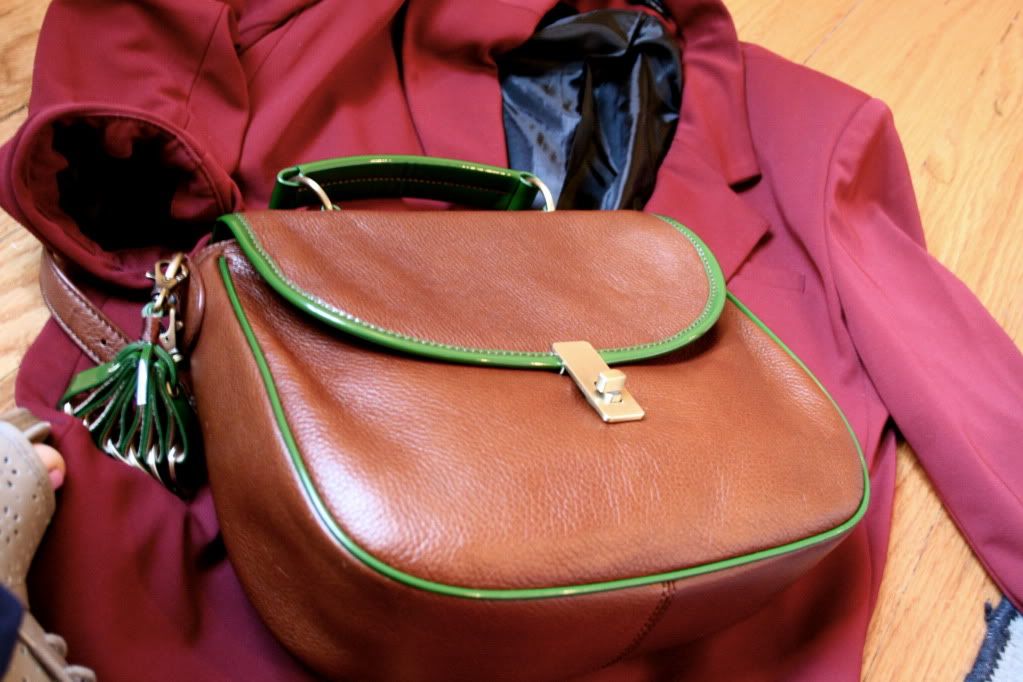 LOOK AT THIS LITTLE GEM.
LOOK AT IT.
I won't bore you with the details but let's just say I've been lusting after this purse for at least a few months. I finally bought it (at about a fifth of its original price) last week, and I kid you not: I wore it around my house while cleaning a couple of days ago.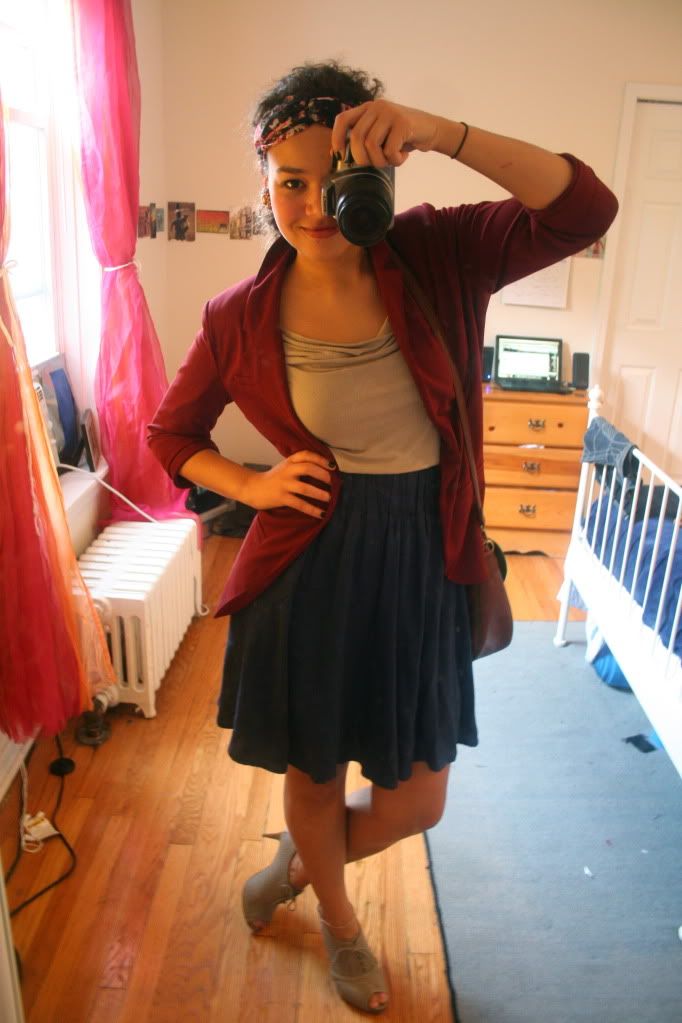 Thanks to the lovelies who have come to say hey on twitter!
I'm here:
@SWIILPTblog
I'm off for the day,
salut, friends!
♥