Headband: Forever 21
Necklace: Forever 21
Shirt: Anthropologie
Shorts: Anthropologie
Shoes: H&M
Lipstick: Revlon Colorstay Lipstain, "Stay Currant"
Guys. You will never believe this.
I am blogging from 36,000 feet in the air. WOAH.
I think in-flight internet is old news already, but let me tell you,
as someone who almost never flies
(and really hates the whole process)
this is awesome.
This is an outfit that seems to go ANYWHERE. I've worn it to work, Sunday brunch, a weekday park outing, and weekend cocktails. It's dressy, it's casual, it's uber comfortable but way more fun than sweatpants. (
Sidenote: I don't think I actually own any sweatpants...bahaha.
) Though I typically like to pile on all sorts of textures/colors/patterns/crazy, sometimes it's refreshing to find nice backdrop pieces and let the accessories do the talking.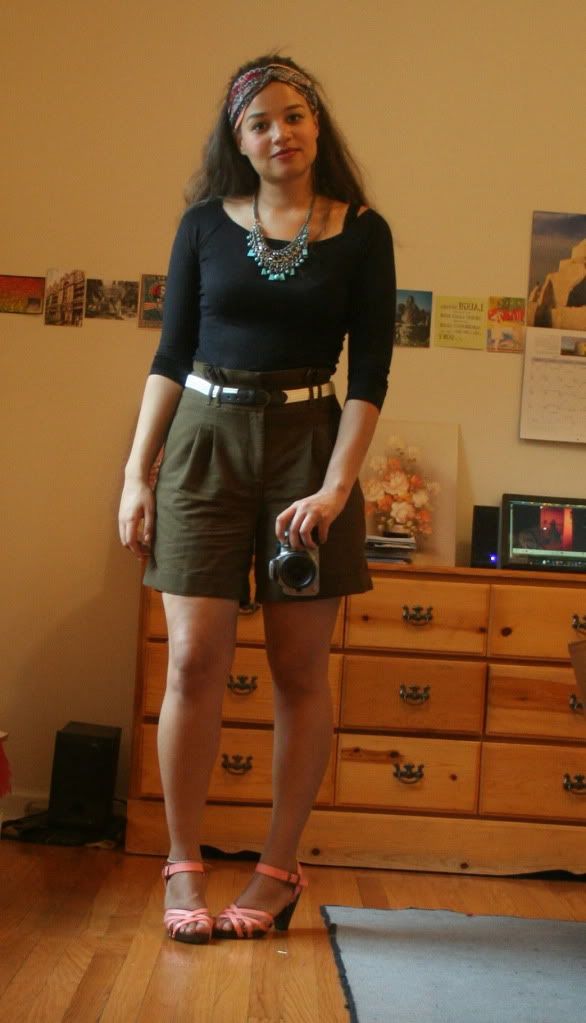 Not that these backdrops are dull - these shorts have been so good to me all summer, and though this little black ballerina top has already started to pill in the four weeks I've owned it, it's incredibly flattering and easy to wear. Still, the main thing I love in this outfit is the HEADBAND/SCARF THINGY! I rarely wear scarves or headbands because my head is too big for them and it hurts (insert the obvious, deserved jokes here). But this little elastic wonder has been a dream!
The necklace was another excellent Forever 21 score, and another summertime all-star!
A little note:
The reason I'm flying is because my grandfather passed away last week, and I'm going to meet up with the rest of our family on the West Coast to celebrate his wonderful life. Just before we found out he was sick, I wrote him a letter, which isn't notable since we've been writing each other for years, but in this most recent letter I felt the need to remind him how dear he is to me. I did, and I'm so happy he read it before he died.


If you love somebody, for god's sake, tell them.


(Not to get all preachy on you! But I believe in love!)

Happy Tuesday to you, loves!
♥