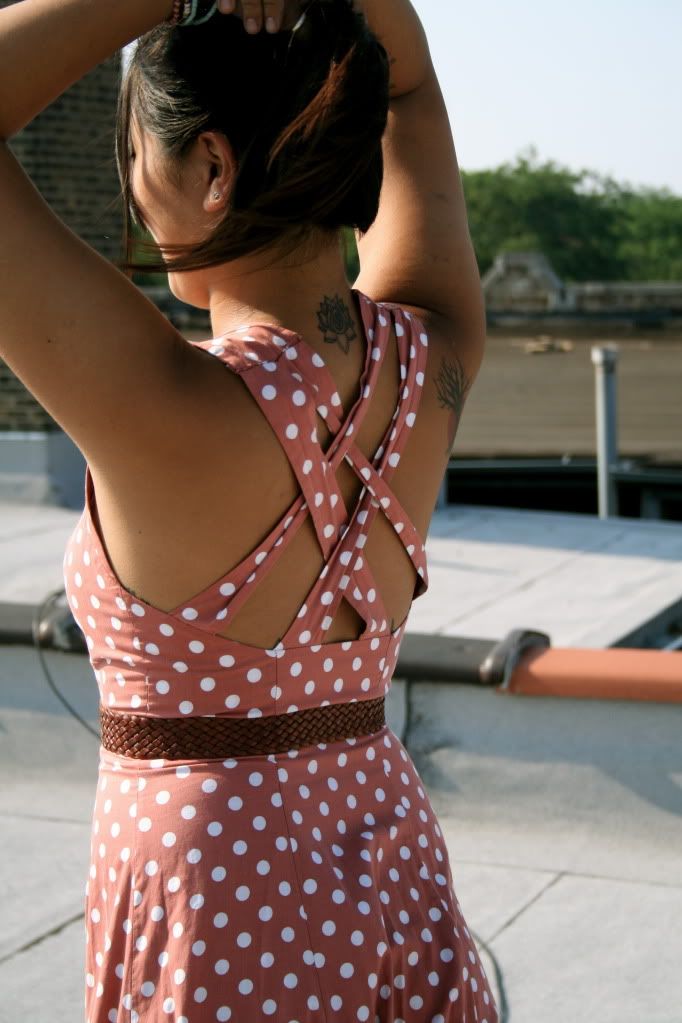 Dress: vintage, Laura Ashley
Belt: Banana Republic
Earrings: Orchid Lane
Rings: found, Treasure Mart, American Eagle
Bracelets: H&M
Shoes: Gap
Toe nailpolish: Forever 21
My best friend of many many years, Mai, came to visit in Chicago this weekend. We thought a morning photoshoot on my roof would be the perfect way to begin Sunday. Because we're crazy like that.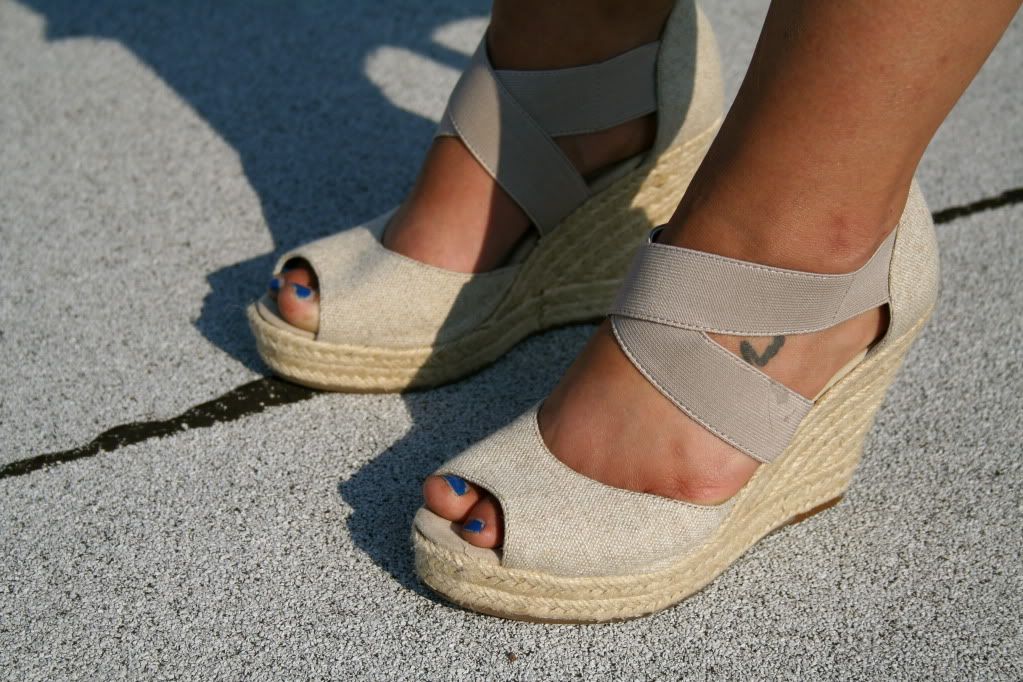 She dug this Laura Ashley gem out of her Mom's closet, and made it her own by adding a woven belt and turquoise jewelry.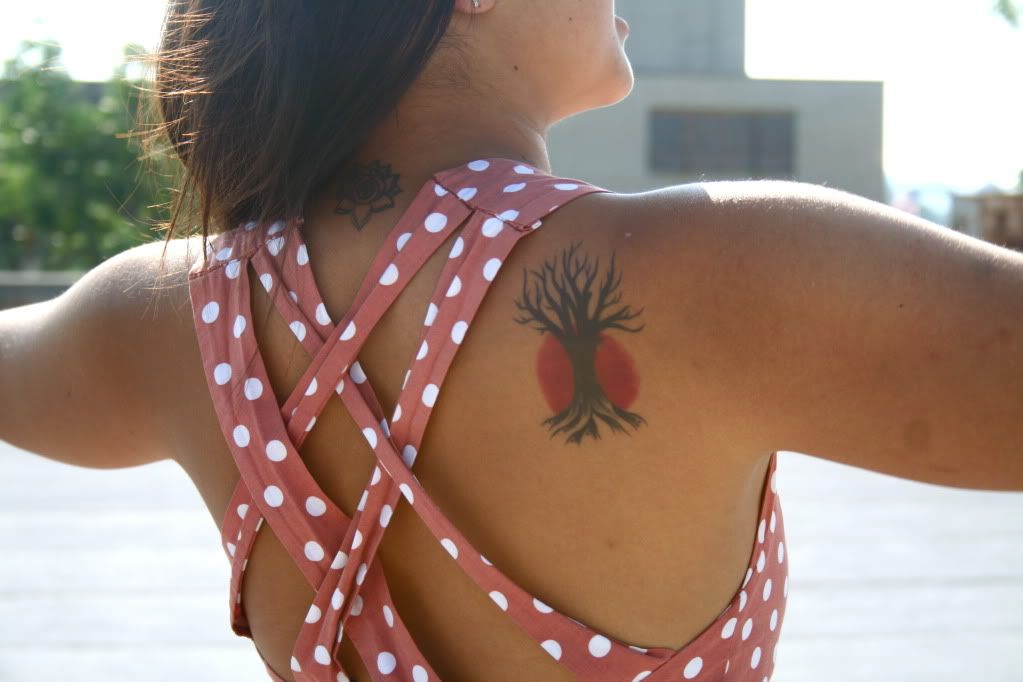 The back of this dress is so pretty - the perfect way to show off a couple of her tattoos. I love fake tattoos because I can change them up with no commitments, while Mai has 14 real ones...she's way more brave than I am.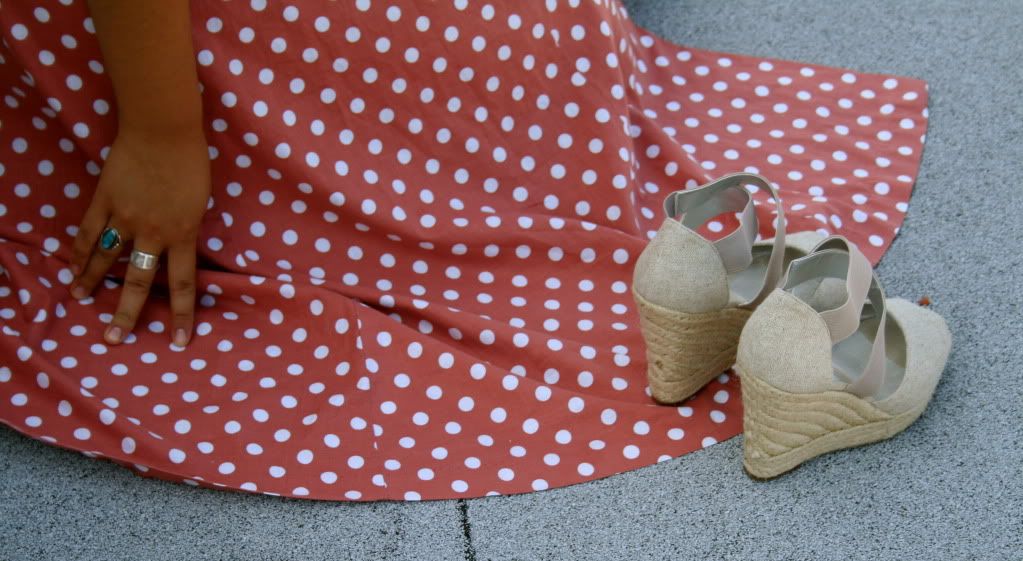 She may hem the bottom of the dress up, but it remains to be seen. I think the current tea-length trend can be hard to pull off, but the slimness of the top of this dress makes it work.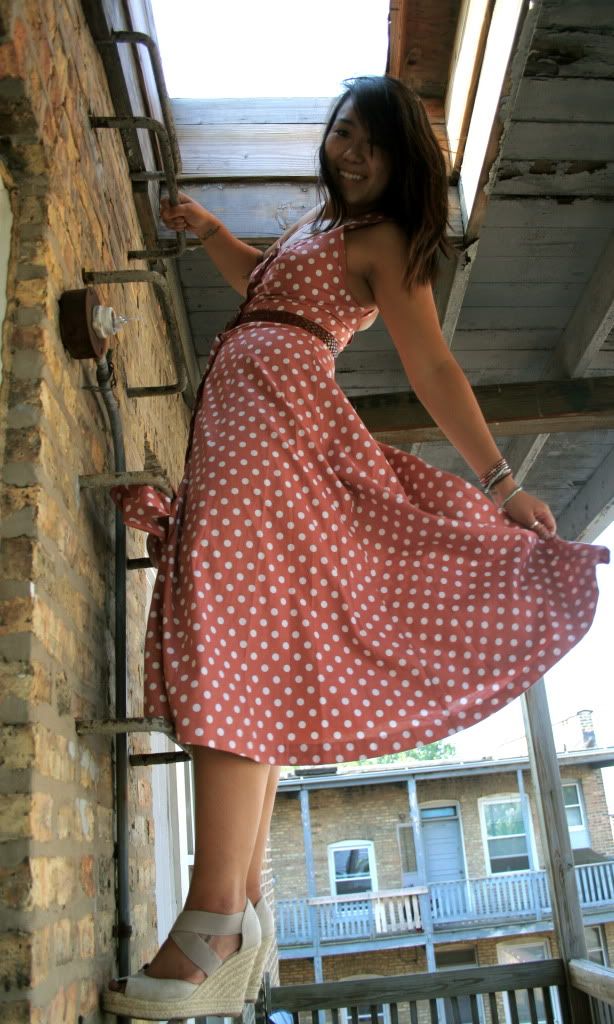 And here,
for the first time ever,
courtesy of my very patient bestie,
PHOTOS OF ME,

WITHOUT A CAMERA IN MY HANDS!
Blouse: Target
Tank: Gap
Shorts: Anthropologie
Shoes: Ann Taylor, gift (thanks Mom)
Necklace: Banana Republic
Bag: thrifted
Sunglasses: Anthropologie
Nailpolish: Essie, "Licorice" and "Borrowed & Blue"
I'm sort of irrationally excited to present photos that were taken outside, and by someone other than myself. It felt great to be able to move around, and not have to worry about standing perfectly still to get the shot. Mai and I had a blast.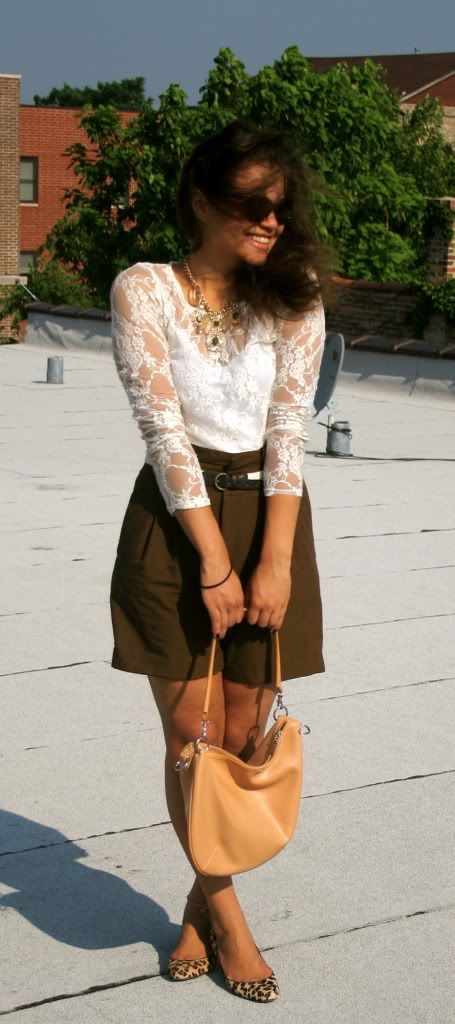 I wore this to work and to the bar last week. I wore white flats all day long, and switched into the leopard heels for an evening drink.
I didn't realize it before I wore it to work, but this shirt is toooootally falling apart! It has hanging strings and rips all along the arms, but I'll wear it until it's in pieces. It was last shown on the blog
here in February
, and
here on my 23rd birthday
.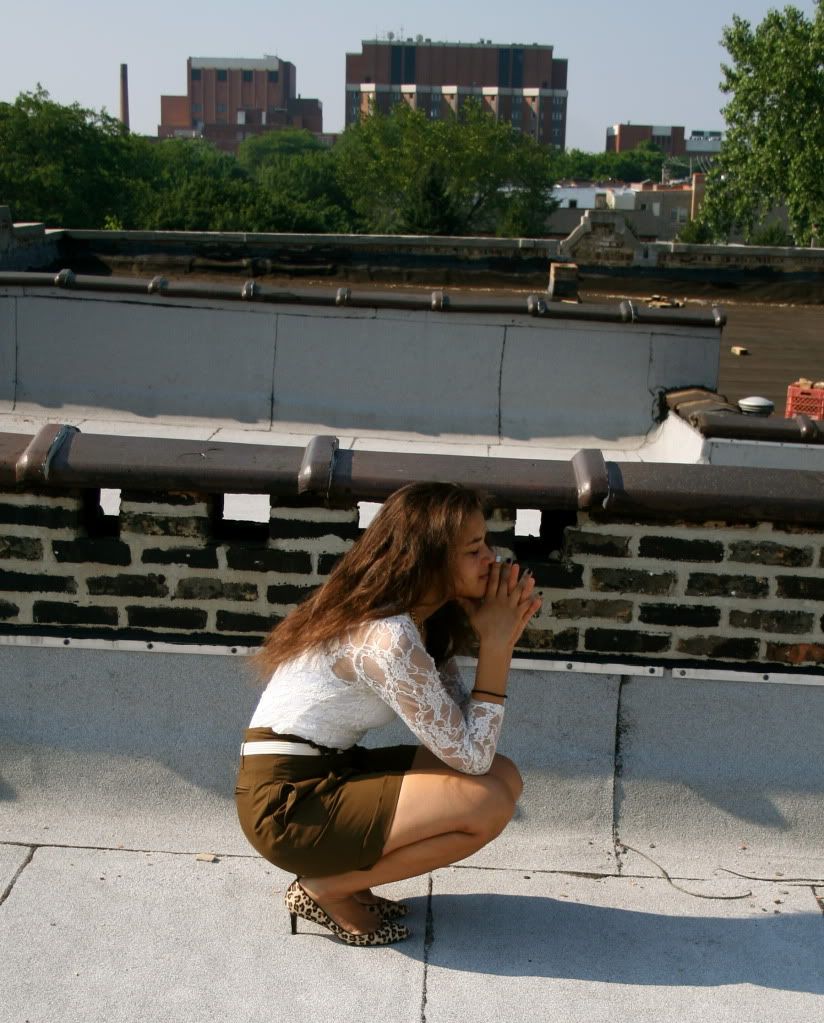 I've had nail polish ADD for the past few weeks - I can never decide on a single color. I've been wearing at least two on each hand, at all times.
Fabulous, go-anywhere shoes from my mama!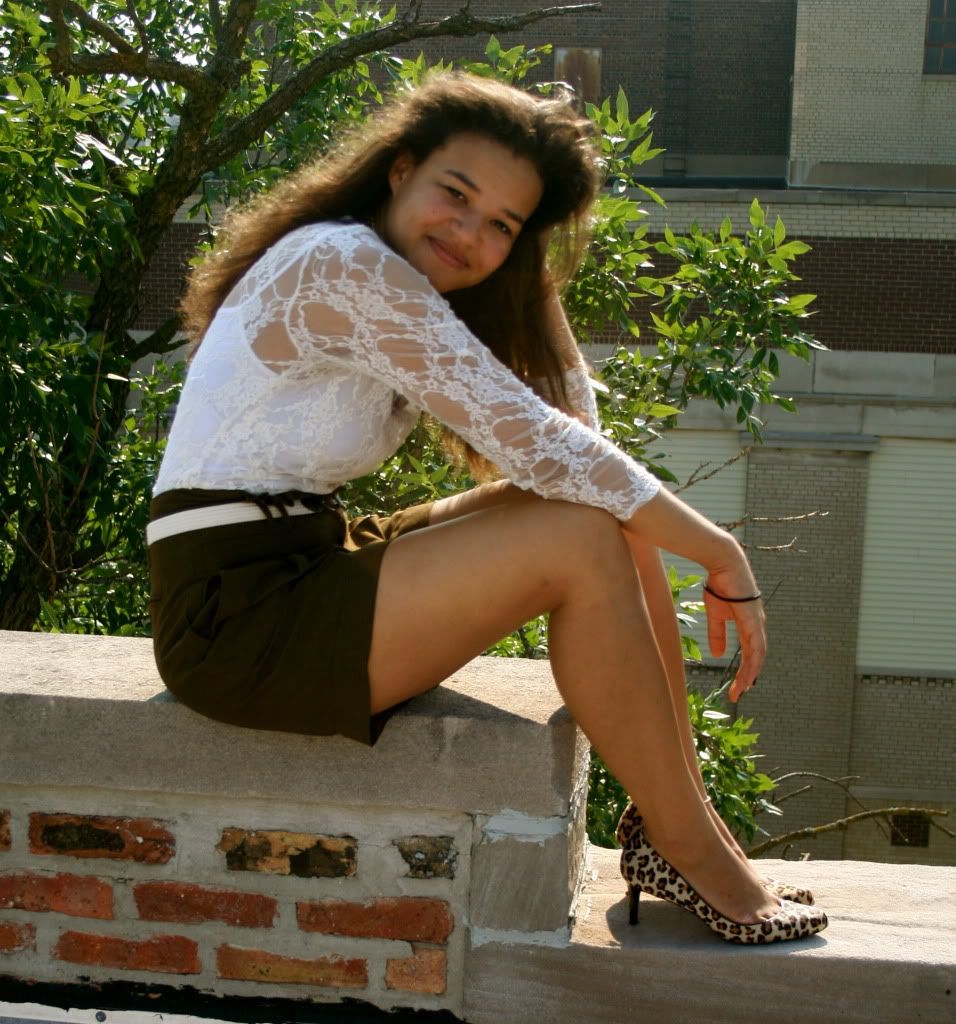 I guess this outfit is geared toward autumn (given that it features calfskin, olive, and lace), but it felt so much more interesting than just wearing a classic tank and shorts like I have been lately. Summer dressing can become a one-note operation because of the weather - I try to fight it with the lightest layering I can come up with.
These shorts
are still awesome, no matter what all common sense tells me. I didn't realize how absurdly long they make my crotch look until I looked at these pictures. And they also do a really good job of making me look 3 inches wider and 10 lbs heavier...but WHATEVER. I love them irrationally?!??!?!?!?! (They were
last seen here
.)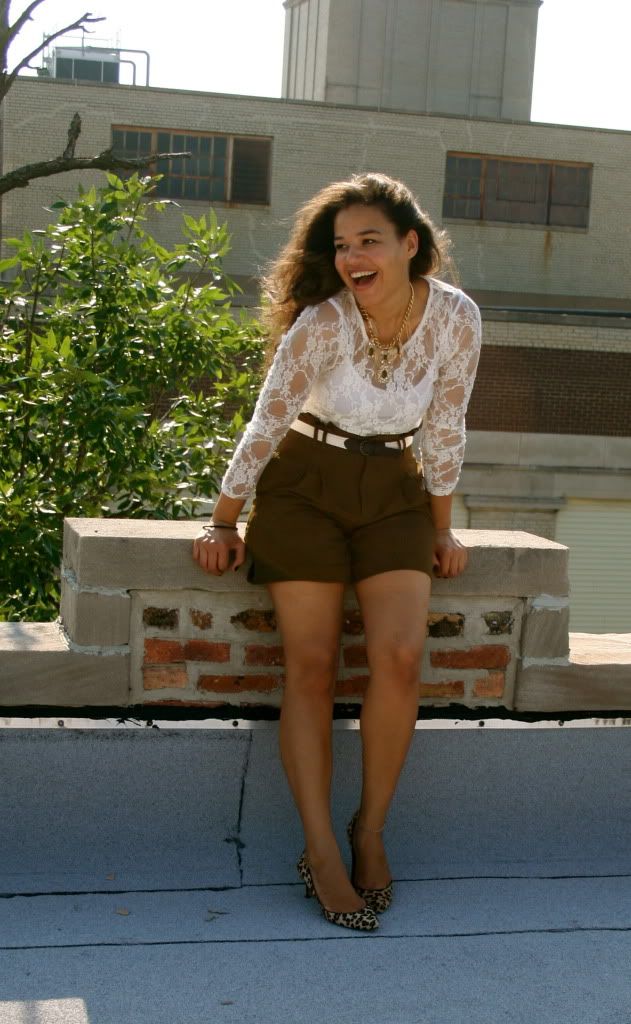 It was such a party having someone to take photos with, so I'm hoping to be doing more of this collab-ing in the near future. I'm also trying to return to more regular, timely blogging - I'll do my very best!
Happy Monday, lovebugs!
♥