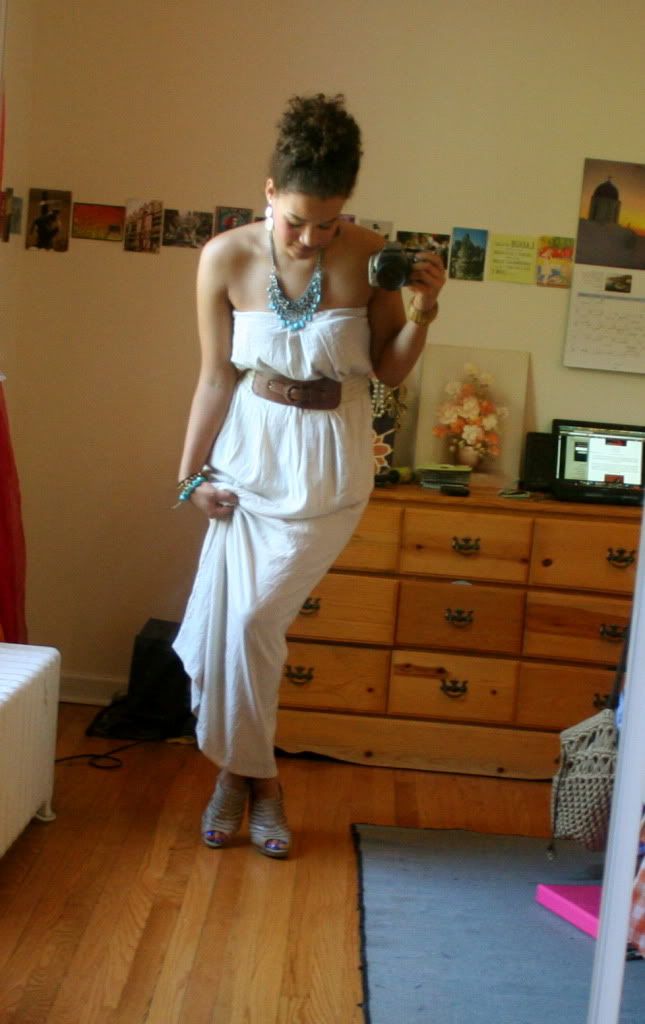 Dress: Gap
Belt: Anthropologie
Necklace: Forever 21
Earrings: Claire's
Shoes: Banana Republic
Bracelets: stolen from sisters, street market in St. Thomas, Orchid Lane
Toe nailpolish: Chinaglaze, "Frostbite"
Scent: Royal Apothic, "Macaroon"
If you've ever read my blog, you'll know I have a weakness for buying things that don't fit. The most recent evidence: this dress.
I hope you can't tell it's so enormous. But I couldn't help myself, it was love at first sight. The color, the fabric, the pleats, the shape, the PRICE ($20?? ARE YOU KIDDING ME??)...I had to have it. I'm going to have the sides darted so it stays up better, but I couldn't wait to get it up on the blog. So here is the outfit I can't wait to wear for August outdoor cocktails.
Neutrals + turquoise = perhaps the easiest, most obvious accessorizing combination ever. Anyone who's ever seen a photo of Santorini gets it.
(Here's one if you've somehow managed to never see a photo of Santorini. I have a collection of photos that my sister took here that I treasure like woah.
Go here to see some of them
. And yes, that's a younger me in the first picture!)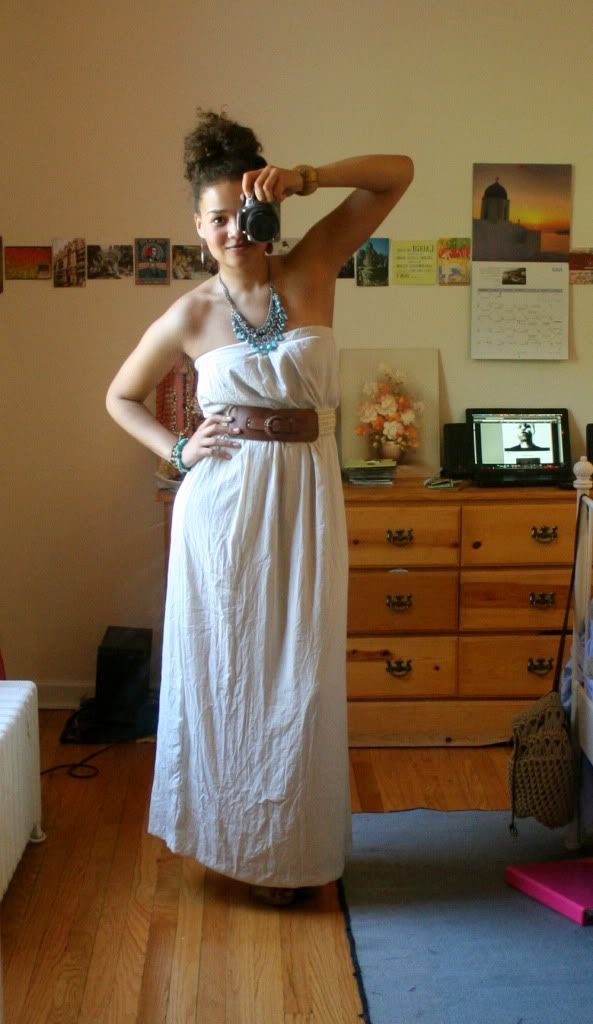 I haven't had straight hair in what feels like weeks - it is TOO. DAMN. HOT. This pile-of-messy-curls-on-my-head thing is my current version of the trusty top-knot.
Also, dear readers, I'm trying to work up the bravery to get my hair cut - I know this sounds really dumb but I've never had it done by a professional before, and I'm super scared. Any of you have hair like mine, or a recommendation of what to do/what not to do if you have hair like mine??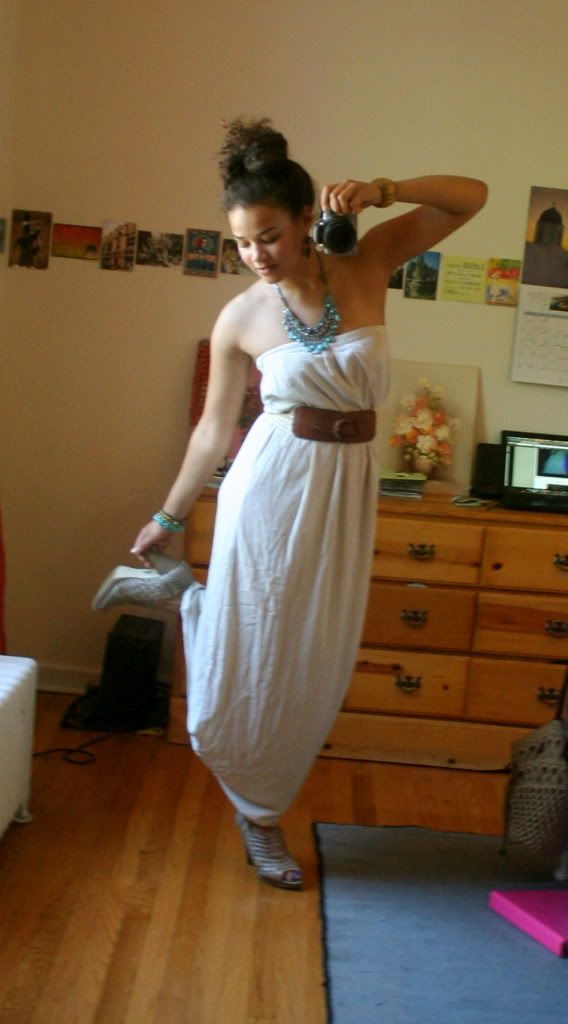 Ever wonder why I pretty much always have electric blue toe nails? Will be doing a post with the inspiration for it very soon...!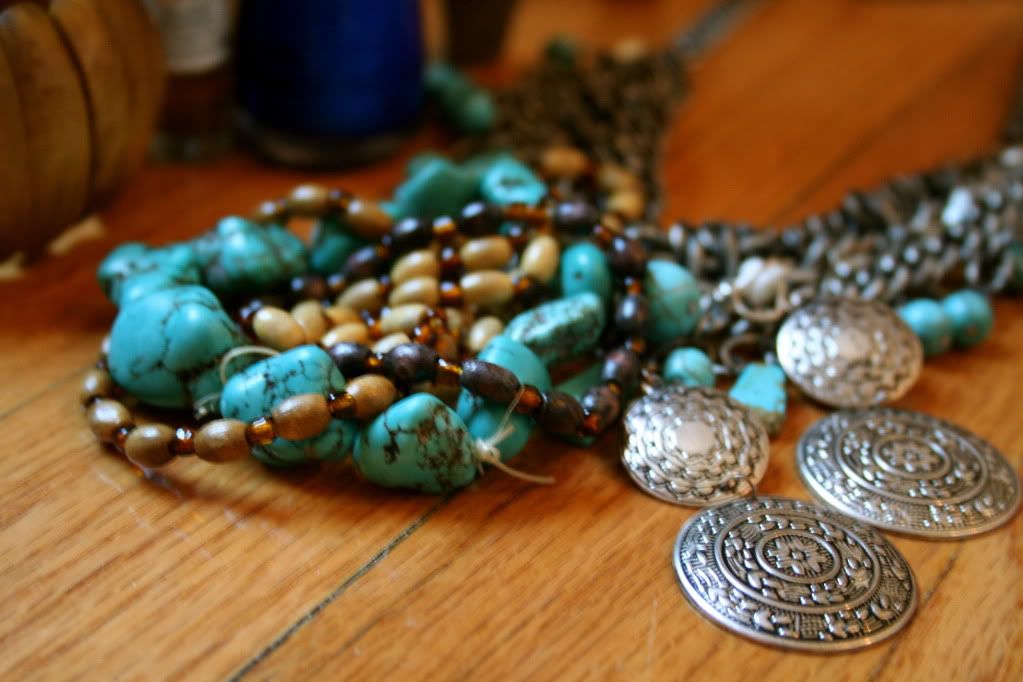 Close up of the colors. These bracelets are so well loved, they're all coming apart.
Happy Friday! And stay hydrated guys. It's so hot.
♥