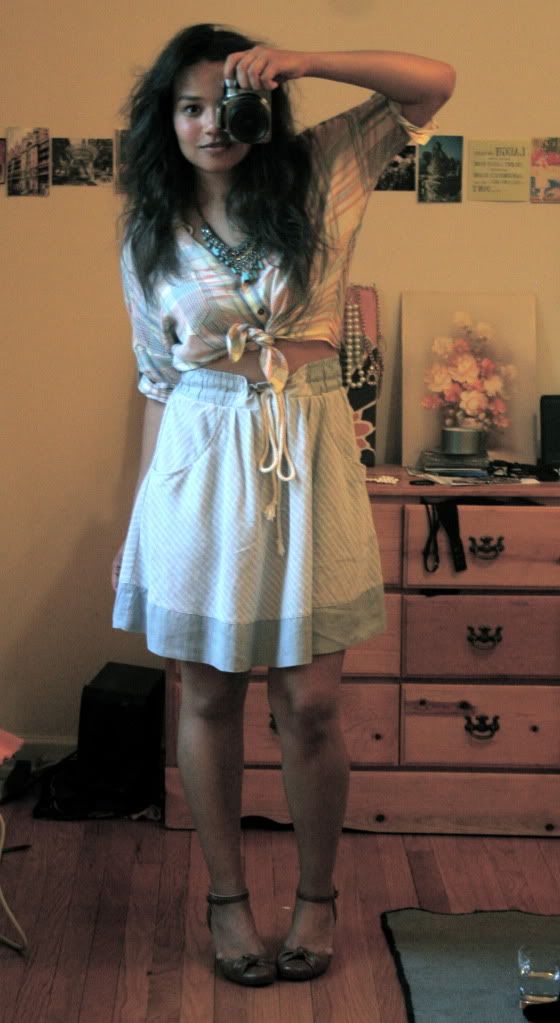 Necklace: Forever 21
Blouse: Anthropologie
Skirt: Forever 21
Shoes: Sears
Nailpolish: Essie, "Borrowed & Blue"
First off,
the color in these photos is
HORRIBLE.
I usually shoot photos early in the morning when I get a lot of light in my apartment, but since I woke up super late againnnn (
maybe it's the heat??
), I didn't have time yesterday. I worked 12 hours, so this is late evening sun and it just isn't pretty. Sorry!
Chicago hit a record 96 degrees yesterday - this outfit was as thin and light as I could get, and I still felt I was melting. I started off wearing just a tank, but after I bought this silk blouse at work yesterday I had to wear it immediately.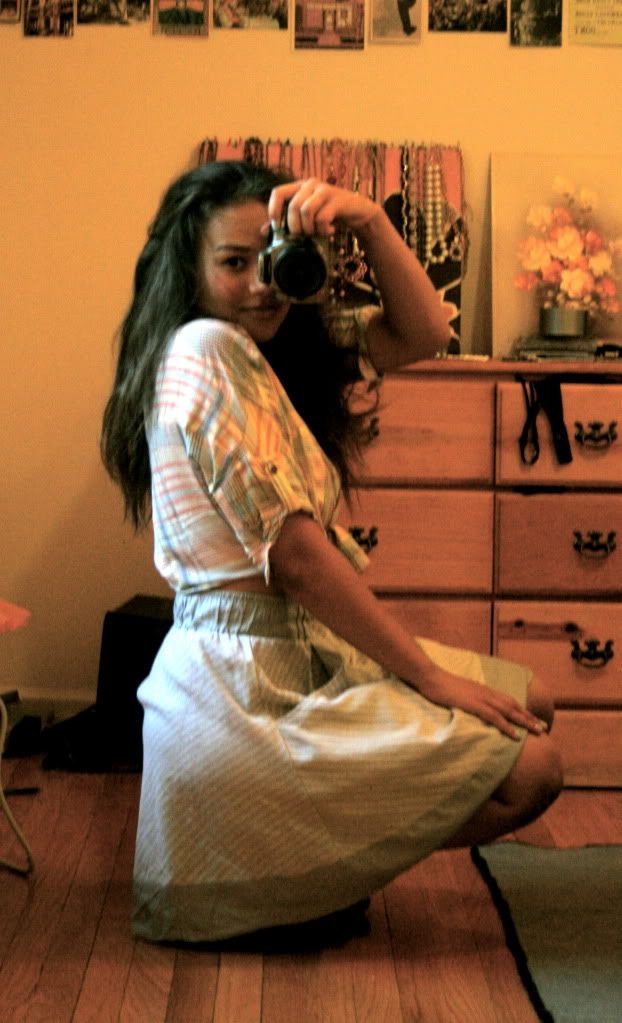 It's the lightest, preppiest, most precious pattern I've ever owned. I don't care much for pastels, or overt East Hampton-style staunch, but the fact that this blouse was sooo slouchy seemed to cancel out the innate syrup-y quality of the pattern. It wasn't really designed to be tied, but as we know, I love me a tied button-up :) (
evidence here
)
I had tried on this skirt months ago and decided not to buy it. Luckily another one turned up this weekend at my local Forever 21, after having mysteriously disappeared for at least 8 weeks. The rope tie in the waist band was too cute next to the blouse.
The necklace was another Forever 21 score. I have almost no silver jewelry...it's not really my thing. It was nice to find some silver I actually dig. I REALLY dig turquoise but have almost none, for some bizarre reason. Killed two birds with one necklace! (This photo also has the most true representation of the colors in the shirt - pretty, right?!)
I just hit 100 Followers via
GFC
- you guys are the best!
♥