Sweater: Banana Republic
Tank: Old Navy
Skirt: Forever 21
Shoes: DSW, Tahari
Necklace: Forever 21
Bracelets: H&M, Orchid Lane, Forever 21, stolen from sisters, gifts from Mom & Dad... (thanks Mom)
Nailpolish: Essie "Borrowed & Blue", Chinaglaze "Re-fresh Mint"
Toenail polish: Chinaglaze "Frostbite"
Every year, when it finally gets legitimately hot, I get super uncomfortable. The weirdness only lasts for about a day - and it's always the first day where it is too hot to wear any layers. I walk outside in a short skirt and a tank top and feel totally obscene, like I'm walking around naked. It's a really weird, freeing, bizzare thing. Anybody else know what I'm talking about?
This is the outfit I wore on that day. I added an extra (super-thin) sweater because I was so ridiculously uncomfortable. Haha.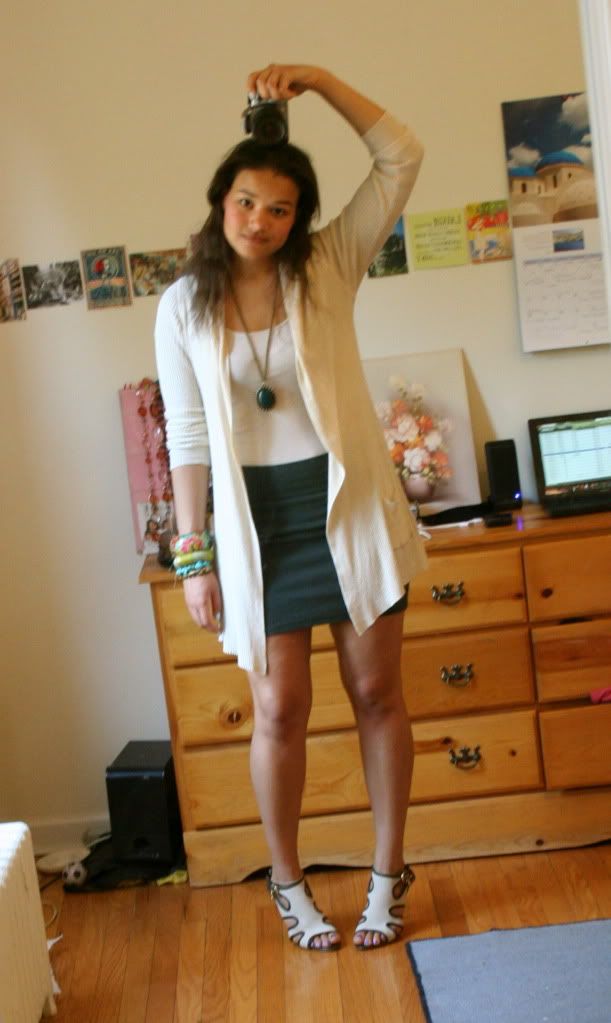 All of these pieces cost practically nothing - the most expensive part is the shoes ($89). The sweater was $35, the skirt was $6, the tank was $7, and all the jewelry was either a gift or under $10.
I was only walking around my neighborhood so I was actually wearing flats, but later on in the evening I went out for drinks and added my new Tahari guys. Aren't they ridiculously cool?! Sort of space age-y, yet sort of organic/earthly in shape....I'm obsessed with them.
And NOW, for the most exciting news of the day...
THE GIVEAWAY WINNER!
First off, I want to say THANK YOU to everybody who entered and left comments and reposted
the giveaway
. Because of all the traffic and new followers I got I was featured as the top
Up And Coming blogger on Bloglovin' in the GL category
2 days in a row - - I can't tell you how cool it was! Many, many thanks to all of you.
The awesome reader who will be receiving a package of presents from me is..
SARA S!
Who left this really sweet note:
I'm Sara :)
You have the cutest clothes, the best fashion sense, and the greatest buying advice (the 100 words or less article was great)! Hope this flourishes and you become super successful!

I followed you on Google Friend Connect, and Bloglovin' and tweeted the link for the giveaway.

I also had my friend repost it on her blog because I don't have one of my own (I'm much too boring) http://lizna.tumblr.com/post/4...

I love the giveaway, especially the bag :)
SARA! Thank you so much!
Shoot me an email at melliott930 at gmail dot com and we'll work out all the details.
To everybody else, thank you again for entering!
I'll be doing more giveaways soon :)
Happy Friday!
♥