Shirt: Forever 21
Skirt: Anthropologie
Shoes: thrifted (originally Forever 21)
Bag: thrifted
Necklace: thrifted
Earrings: thrifted (thanks Kim)
Lipstick: colorlab, "Rogue Wave" (thanks Marie)
Bracelets: thrifted, stolen from sisters, gift from parents (thanks Mom), Orchid Lane
Nailpolish: Revlon, "Make Mine Mango"
Toenail polish: Revlon, "Cherries in the Snow"
I adore saturated colors in clothes. I also rarely follow seasonal dressing rules. (Who made those rules?? More importantly, who needs them??) So if I feel inclined to wear a warm, autumn-y, jewel-toned outfit in the third week of May, so be it!
I put this together this morning, and I haven't decided yet where I'll wear it. All I know is that I won't be wearing it today since its 43 DEGREES AND RAINING. WTF CHICAGO. I SAY TO YOU, W. T. F.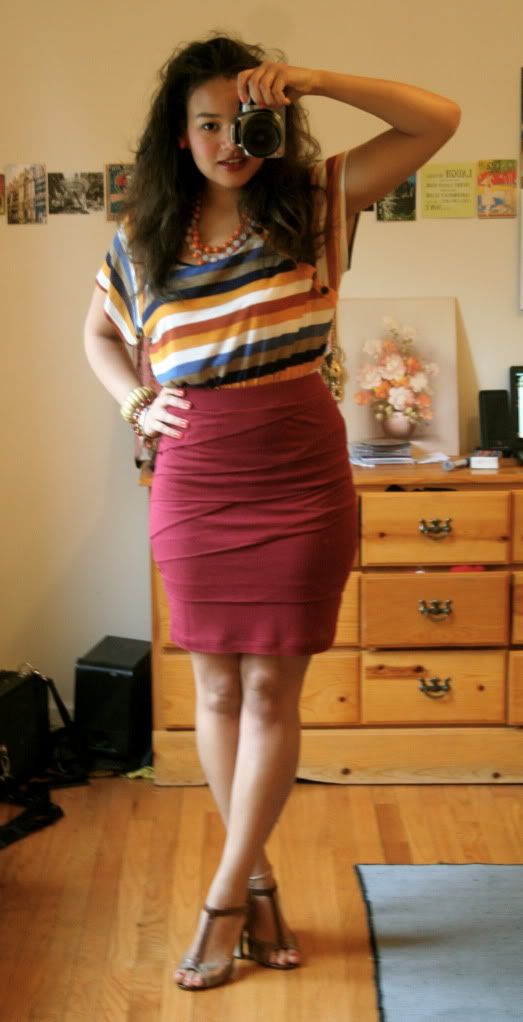 The shirt is a very soft, very thin cotton and has the cutest little buttons down the left side of the sleeve. It's super boxy so I tucked it into the pencil skirt to keep from looking like I was wearing a balloon. And speaking of the skirt, I must say, three years ago the idea of wearing a pencil skirt would have terrified me. I used to think that because pencil skirts were shaped the same way I was (slim in middle, wide at hips) that they'd accentuate any negatives. Turns out, clothes are SUPPOSED to work with you, not against you. This is why I look better in pencil skirts than A-line skirts, and better in bell-bottoms than skinnies. (Seems logical and simple, but I swear this realization changed everything.)
Emma and I found the necklace second handing (
last seen here
) on the same day I found the purse (
last seen here
), and my darling friend Kim found these earrings in Bucktown a few months back (
last seen here
).
There's a good chance I'll be investing in a tripod in the coming days...I'm unsure of how I feel about the prospect of not having my camera in my pictures. Buuuut, if all goes well, you guys will see me hands-free someday soon!
Stay warm if you're in Chicago.
And stay safe if you're anywhere in the Midwest. These storms aren't kidding around.
Happy Thursday.
♥