Headband: Forever 21
Dress: Banana Republic
Belt: gift, Ann Taylor (thanks Mom)
Shoes: Payless
As you may know if you've been reading this blog for a looooong time, I am what I like to think of as a "Recovering Violinist". My whole life all I wanted was to be a musician, but I ran into a bunch of negative musical experiences, and as a result walked away from it for several years.
That being said, I am about to give my first recital since I was 19 years old. I'm excited and panicky and I absolutely cannot wait. Here I am, true to form, trying to pick an outfit before I've even picked a venue :) I'll be posting a few different outfit options, and I'd love any/all opinions to help with the decision making process!
[image via]
Outfit Possibility #1 is inspired by this Oscar de la Renta dress Carrie Bradshaw wore during the sixth season of
Sex and the City
.
Her artist boyfriend Aleksander Petrovsky takes her to the opera and gifts this gem to her before they go.
Petrovsky then asks for her hand in a dance in the Lincoln Center courtyard, in front of a bunch of people, next to a string quartet. Carrie proceeds to faint because she's completely overwhelmed by the absurd romance of it all. Which is legit, I would have fainted too.
Buuuut I digress.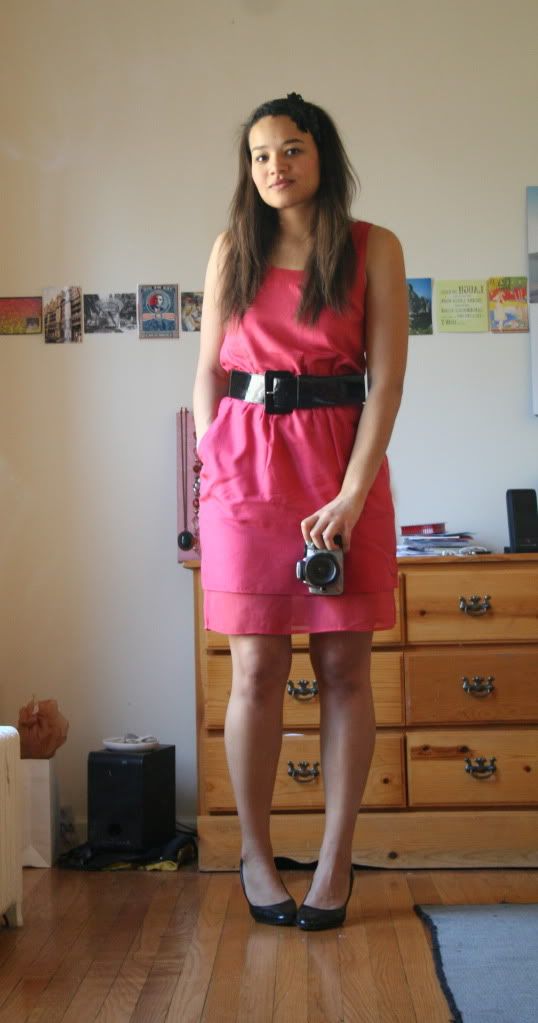 I bought this hot pink number at BR last weekend, on final sale for $22 - not bad, considering I'd been wanting it since January when it was going for $110. The fit isn't as exquisite as the color, so I added a wide patent leather belt to help keep everything in place.
The big challenge with recital outfits is that the accessories have to be very minimal - no necklaces (could make it tough to hold my violin), no bracelets (can't have them rattling around throwing off my rhythm), no rings (they'd get in the way of my fingers). I figured a pretty headband might be a nice way to make it fancier.
What do you guys think? Any other musicians out there with recital outfit advice? I'll be posting a couple more options soon!
♥
PS. Changed up my layout a bit in the past couple of days, I hope you like it!