Jacket: Banana Republic
Dress: borrowed, Target (thanks Emma)
Belt: gift, Ann Taylor (thanks Mom)
Tights: Gap
Necklace: Banana Republic
Shoes: Payless
[Disclaimer: Try to avoid looking directly into my creepy monster eye in the above photo.]
I wore this outfit to a party with work friends earlier this week. I recently got a new job (YAYY!!) and put in my two weeks, so it's starting to hit me how much I'm gonna miss seeing them on a daily basis. But anyway! On to the clothes.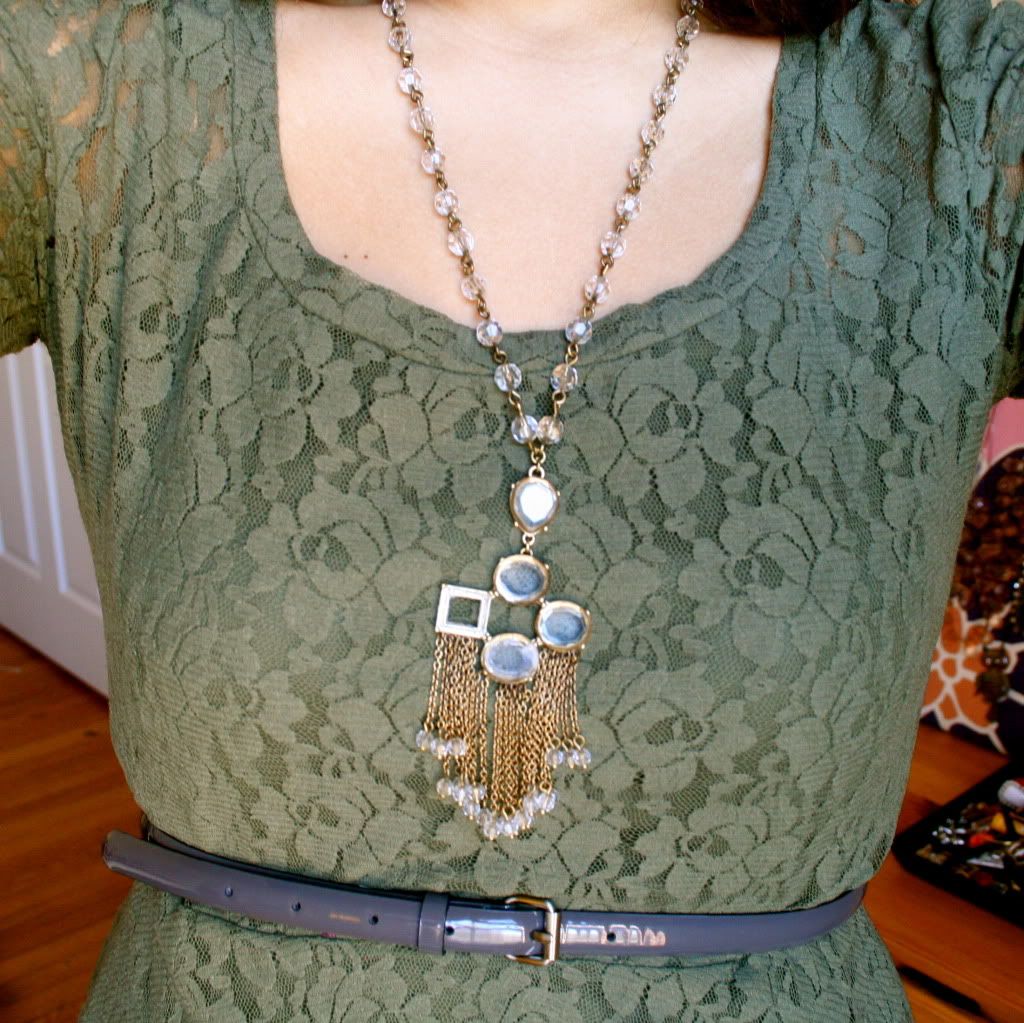 Emma and I found this dress at Target last fall (the same day I bought the white lace shirt that I've been wearing so much this winter). I was having one of those "I-Hate-Everything-In-My-Closet" days, and as always, Emma was there to save the day! It's way shorter than something I'd ordinarily wear but the opaque olive slip made up for it.
I was determined to wear a dress to this party, in spite of the random bout of unseasonably cold weather, so the tights and jacket were necessary additions (especially considering the half-mile walk to the bus stop to get there). Luckily my friend Alejandra found this jacket at Banana on sale for a cool $28 dollars, and even more luckily it was in MY SIZE! I've had it for three days and worn it three times - $28 buckaroos well spent!
I liked the combination of all these textures. (Wish I could have figured out a way to show the lining of the jacket! It's so cool.) This necklace has turned out to be a power player, considering it was an impulse purchase to ensure an outfit was in dress code at work. As you can see it's missing the little gem that's supposed to go in the square space, but whatever. A wee more deconstructed, and still cute.
These are my celebratory "I-Got-The-Job!" shoes :) Again, ridiculously cute for ridiculously cheap - $35 in total. So here's the breakdown:
Necklace: $30
Dress: $0 (borrowed)
Jacket: $28
Belt: $0 (gift)
Tights: $8
+
Shoes: $35
$101. NOT TOO SHABBY.
I hope you're all having a fabulous, stress-free weekend. And it's
Earth Hour
tonight, so don't forget to unplug and turn out your lights between 8:30 and 9:30!
♥