Trench: Ann Taylor (thanks Mom)
Shirt: Ann Taylor (thanks Mom)
Necklace: gift (thanks Mom)
Skirt: Banana Republic
Tights: a wig store at Wilson/Broadway
Shoes: Nine West (thanks Mom)
Hat: Banana Republic
Purse: Jessica Simpson (thanks D)
Nailpolish: OPI "Jade Is The New Black", Chinaglaze "Re-fresh Mint"
I'm returning from a wee blogging vacation post Bloggiversary - it was lovely and restful, so I'm back and ready to roll! Today's outfit was...well, sponsored by my mother, basically. My mother and March-crisp-weather-optimism.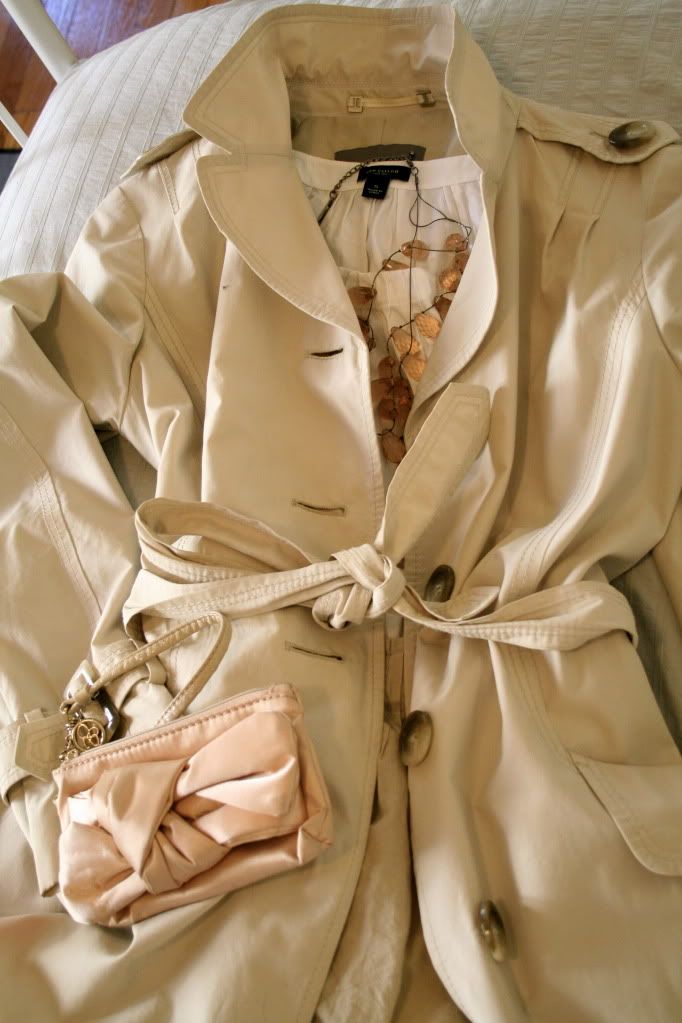 I've been obsessed with pattern mixing and brightly colored florals lately, so I thought I'd do a little palate cleanser and focus on another major inspiration: ballerinas! I've always been drawn to the beiges, blushes, pinks, greys and blacks of tutus, but since I am no ballerina the closest I can come to a real tutu is this outfit.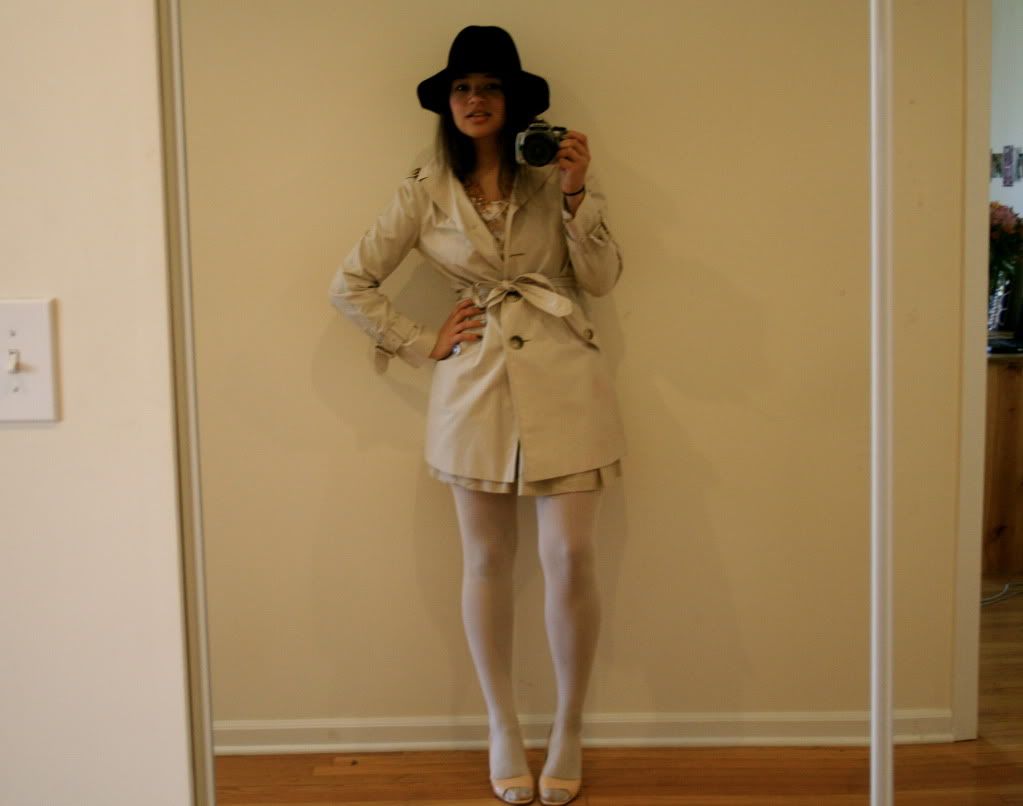 This hat first came out at my store in August - I didn't buy it for some stupid reason, and by the end of a few weeks they were all gone. Then, miracle of miracles, I was shopping at the BR in my hometown in December and there was ONE LEFT in the bottom of a clearance bucket. I squealed like a child, I swear. Now it's mine!
I bought the tights a couple years ago to be part of my Halloween costume (snowflake). I've always dreamed of wearing white skirts/pants/tights, particularly in the spring, but as any other girl who isn't a size 0 can tell you, white on the bottom is TRICKY. I've been trying to find a way to wear these tights that doesn't scream a) 6 year-old girl, b) Halloween costume, or c) trashy lingerie. I think this skirt is the only one I have that could be paired with white tights and look chic.
Yet another appearance by the candy-drop necklace from my Mom!
And now, a song I can't stop listening to from the lovely
Elizabeth & the Catapult
. My pal
Steve over at the AV Club
invited me to check them out at
Martyr's
when they were touring with Greg Laswell in the summer of 2009. We had the pleasure of speaking with some of her band after the show - they were gracious, funny, and very cool. Back then they were touring to support their album
Taller Children
, which I highly recommend. But their recently released
The Other Side of Zero
is giving
Taller Children
a run for its money. Buy them both if you're into sunny, crisp indie pop.
Here's the adorable music video for "You and Me".
"
You and Me
" - Elizabeth and the Catapult
[scroll to the bottom & click the orange link]
Happy Wednesday!
♥