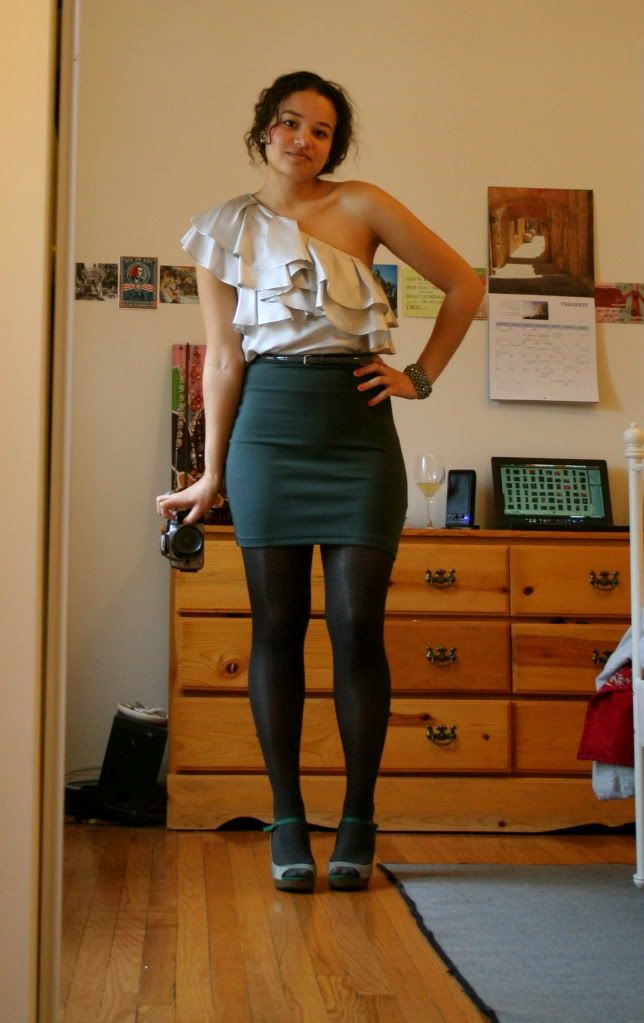 Top: Banana Republic
Belt: Ann Taylor, gift (thanks Mom)
Skirt: Forever 21
Tights: Gap
Shoes: Lela Rose for Payless
Bracelet: unknown, gift (thanks Mom)
Earrings: vintage/gift (thanks Gram)
Nailpolish: "Make Mine Mango", Revlon
Valentine's Day is the best and the worst - - I love the idea of everyone celebrating the people they love, but it can also be full of clich
é
and forced affection. I always feel one half happy/optimistic and one half nauseous on this day, and this outfit seems to capture that. Optimistic and happy in shape, muted and slightly green in color. :)
Bought this top for New Year's Eve 2010, and have only worn it a handful of times since then (
including this long-ago outfit!
). It's beautiful, but too fancy for everyday wear. Since February 14th is a pretty fancy day, it seemed appropriate.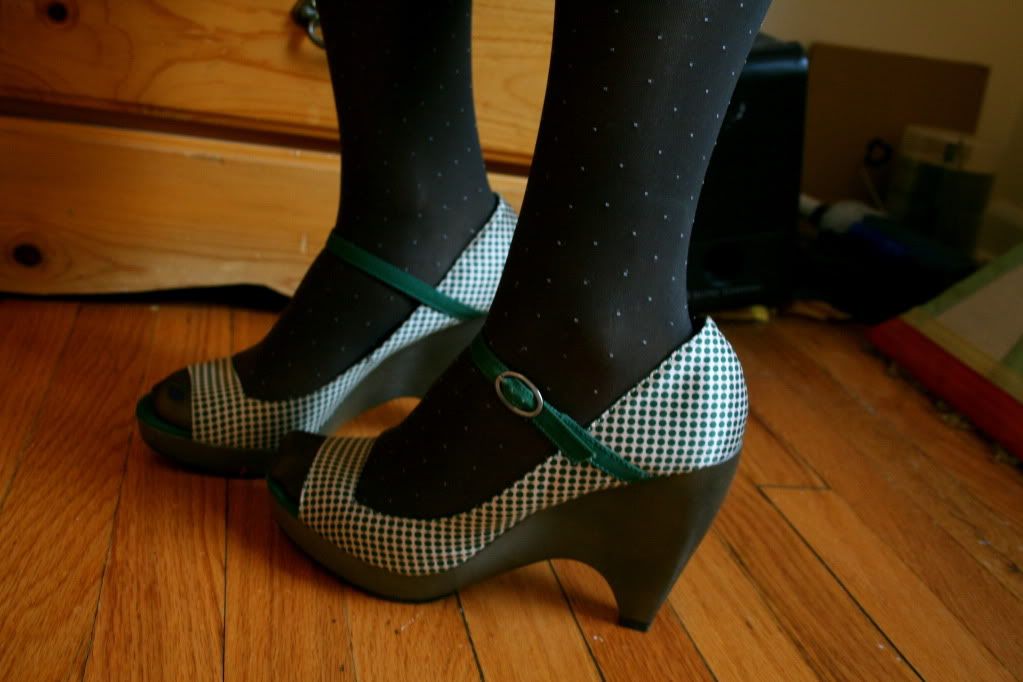 These shoes (last seen
here
and
here
) aren't really meant for winter wear, but good news - IT'S BEEN IN THE 40S IN CHICAGO FOR TWO WHOLE DAYS! Premature as I may be, but I am taking that as my cue to break out the awesome footwear again. As much as I love my
Sorels
, if I have to wear them one more time I am going to sink into a hole of depression.
I would like to take this moment to formally thank Forever 21 for making the best skirt in the universe. Solid cotton stretch, mid-calf length, high-waisted, comes in four thousand colors, and costs $6.80. (They don't have the exact one I'm talking about online, but
here's a close version
.) True, the shape seems directly lifted from
American Apparel
, but I have to say my AA ones stretched out irrecoverably after 4 wears. My Forever 21 versions have NEVER failed me, and they cost wayyyyyyy less.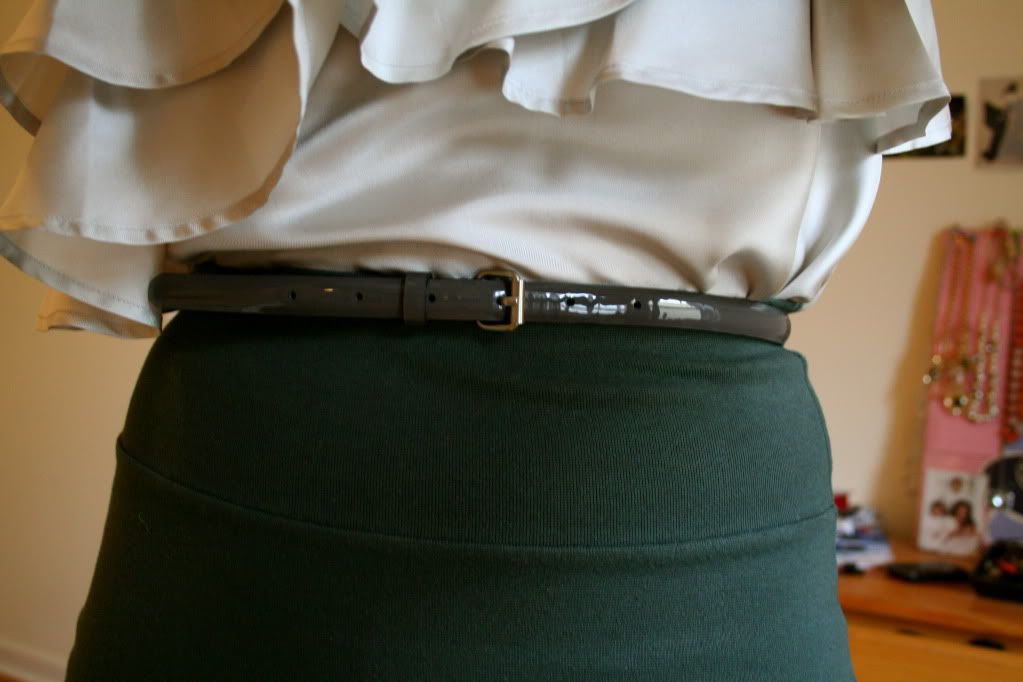 A wee bit of shine in the belt, though I leave most of the shining to the lovely earrings my Grandmother passed down to me.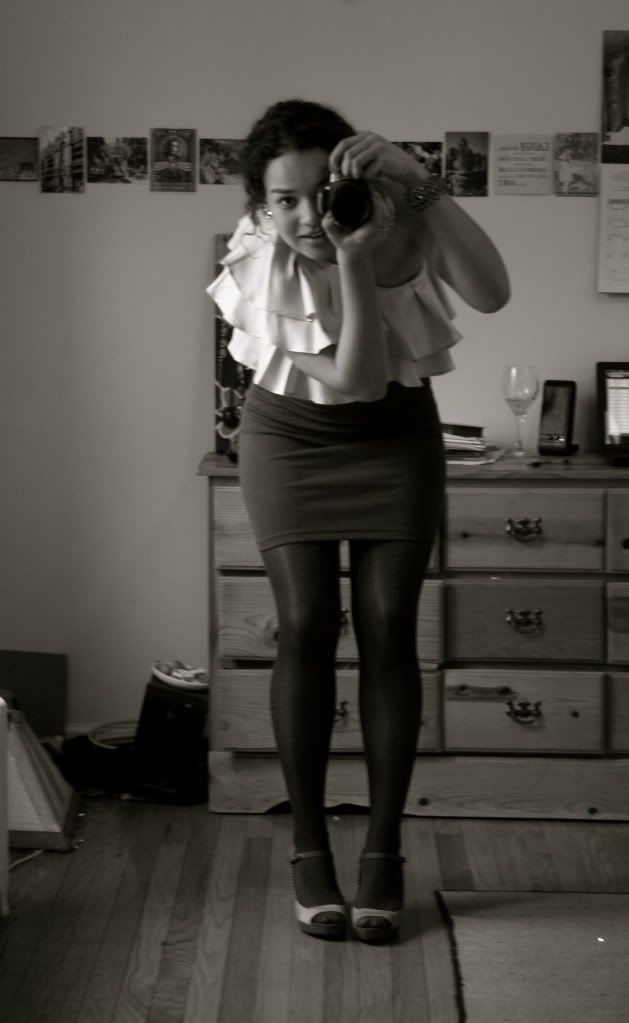 I hope your Valentine's Day is filled with love, happiness, and as little cheesiness as possible. Unless you're into cheese, and in that case I hope it's the cheesiest day ever! Full of cheddar and gouda and jarlsberg and brie!
♥