Blouse: J Crew
Dress: gift, J Crew (thanks Mom)
Necklace: Forever 21
Belt: bought from a street vendor in NYC
Tights: HUE
Shoes: Sears
Nailpolish: "Go Go Green", Maybelleine
Happy Friday everybody! It's been a busy week, and I'm starting to see some positive things on the horizon. I hope you're feeling the same way. Fashion Week in New York has been awesome to watch so far. What websites, bloggers, editors, and/or other cool folks are you watching for coverage?? I'd love to know!
And now, an optimistically spring-y winter outfit!
I'm a big fan of the sheer trend happening at the moment, but I also lack the bravery to pull off something uber seductively see-thru (
a la Richard Chai Spring 2011
). But I do have some lovely sheer blouses, and I've found a way to make them feel delicate and pretty without being too in-your-face - - layering over other patterns. I like how the buffalo check comes through the little flowers on the blouse.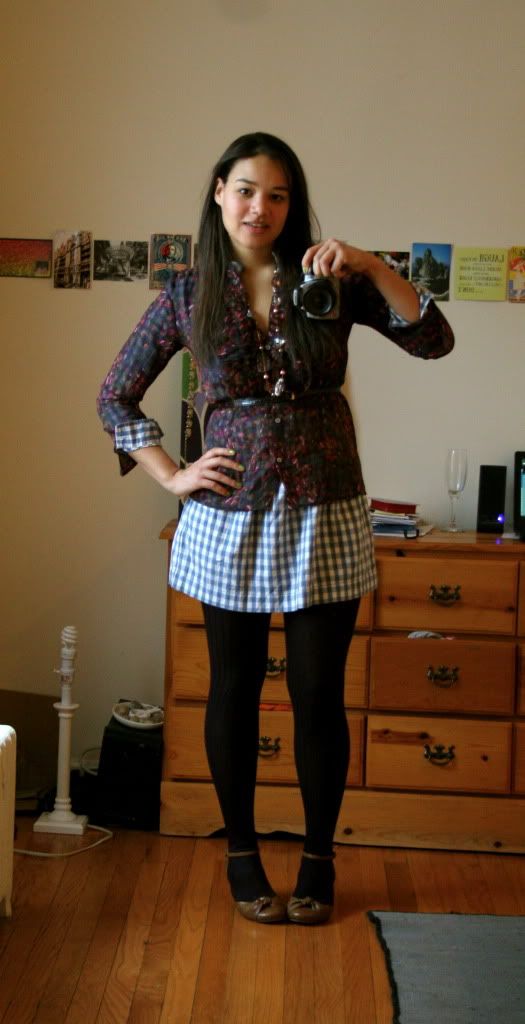 This dress was a Christmas gift from my Mom - she knew how much I loved it, so she bought it and wrapped it up for me under the tree! It's extremely short and a weeeeee bit on the small side, but with opaque tights and a flowy top you can't tell at all. This is honestly the first outfit I've assembled with this dress in it that I actually like.
I'll be wearing this early next week - - I'm hearing rumors that we may hit the high 30s in Chicago!! (How sad is it that I get giddy at the very idea of temperatures above 30...?)
A big THANK YOU to all the recent commenters and followers. You make my day, every day.
Here I am on
Google Friend Connect
,
Here I am on
Bloglovin'
.