Dress: gift (thanks Emma)
Slip: thrifted
Belt: vintage
Necklace: Forever 21
Boots: thrifted
Lipstick: "Rogue Wave", Colorlab (thanks Marie)
Let it be known, from the valleys to the mountains: I. HATE. WINTER. If my lack of recent posts hasn't been an indication, my winter wardrobe is even thinner than my patience these days. Have you ever felt like you might shriek in pain if you see another little animated snowflake in the 5-day forecast? I have.
Little known fact: I spent the first years of my life living in Texas, land of perpetual summer. I attribute my withering tolerance for winter on the simple truth that I was just not meant to endure it. So, I am breaking out my cowboy boots and telling winter to jump off a cliff.
This is an indoors-only outfit, but that's fine by me!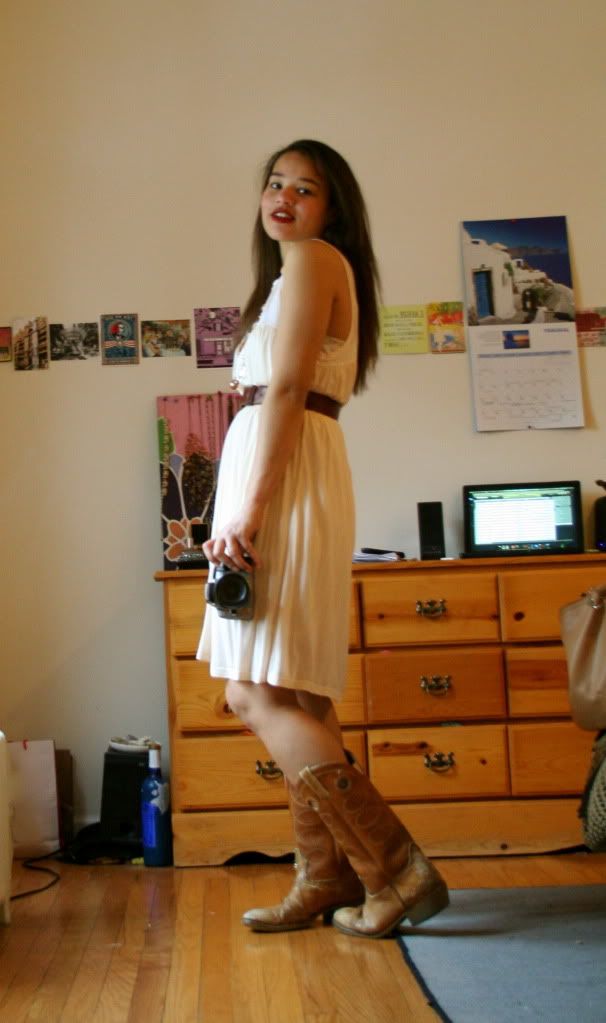 Lovely Emma donated the dress to me last fall, but I haven't found the proper occasion for it until now! It's a difficult length and completely see-through, but the slip underneath it keeps it ladylike. The coolest thing about this outfit is the boots, I think - - I found them at a thrift store in Andersonville for somewhere in the neighborhood of $4.00. They look good with everything, and the leather on them is tough enough to be worn even in the snowy mess of January.
I do apologize for my lax posting - - I WILL BE BETTER!
May your Wednesday be joyful, and to you, January, I say...
GIDDY THE EFF UP.