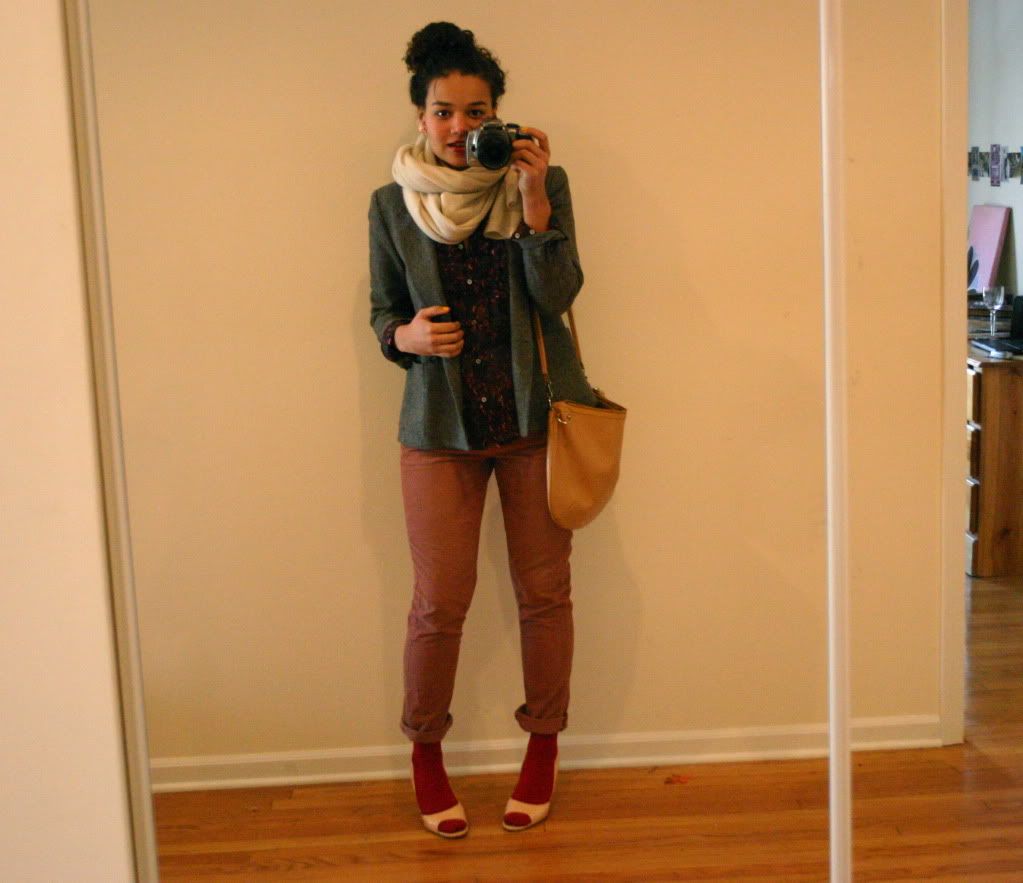 Blouse: J Crew
Blazer: thrifted
Pants: Banana Republic
Socks: H&M
Shoes: Nine West (thanks Mom)
Scarf: Banana Republic
Purse: thrifted
Earrings: vintage/gift (thanks Gram)
Lipgloss: Colorlab, "Rogue Wave" (thanks Marie)
Nailpolish: Forever 21
This outfit is the result of me not having enough quarters/motivation to do laundry this weekend. I had to pair things together I wouldn't ordinarily choose, but I'm very happy with the way it came out, particularly with all the color combinations. As they say, from humble beginnings!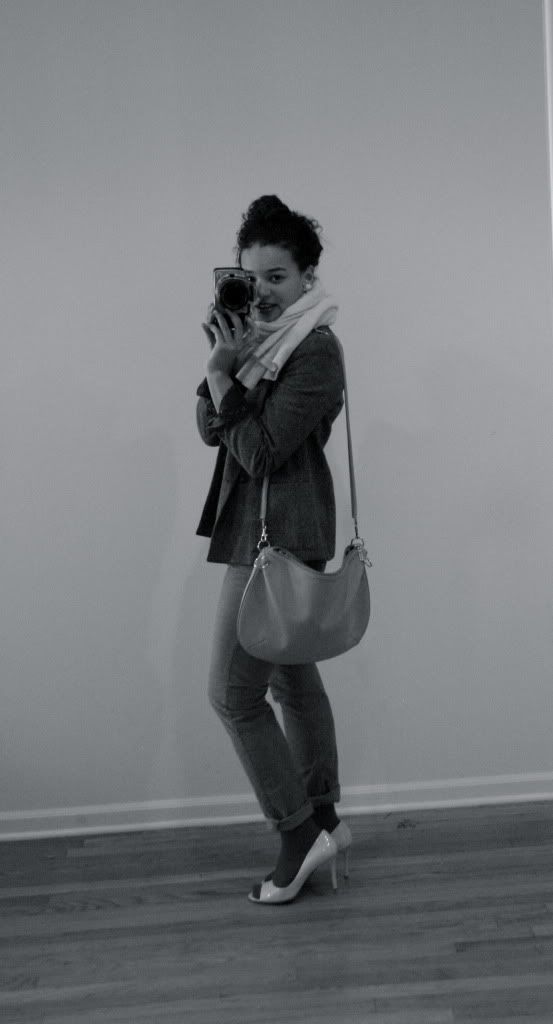 I wear both the scarf and purse pictured here daily - the scarf is impossibly warm and soft, and the bag is just big enough to hold everything I need. I love the peach color, and bags with a ton of ornament can freak me out so I love that this one is simple. It's meant to be a short shoulder bag, but I attached the two straps to each other to make one long loop I can throw over my shoulder.
As its cooling down in Chicago I'm facing two problems I face every single winter. 1) I rarely wear pants, and thus always have cold legs. 2) On the off chance I do wear pants, they are always cropped, and thus I always have cold ankles. My solution this year has been layering tights and socks under absolutely everything, including baby pink patent leather open toe pumps :)
I don't typically wear cords (they make me look enormous), but these have a very narrow wale and are a boyfriend cut, so they fit perfectly. And I love the dusty rose color - it's a color I've tried to wear on top so many times, but the close proximity to my pink-ish face just makes me look sick. Ha.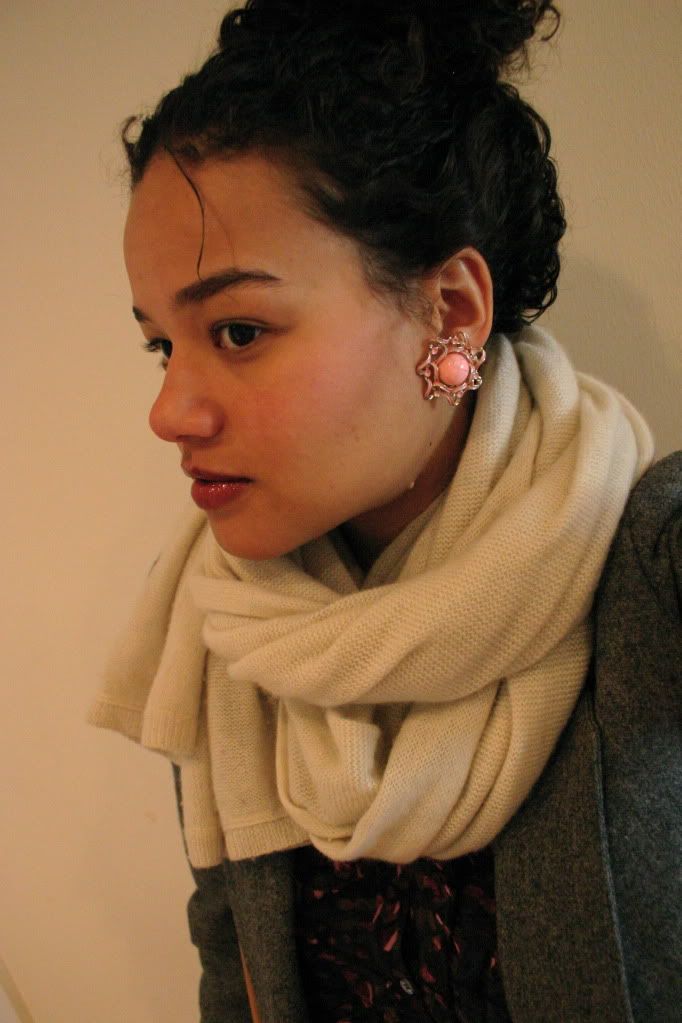 The lipgloss is the same shade as the lipstick I had made by my darling name-twin Marie at
Colorlab
on Armitage last winter. Its matching matte lipstick was stolen a couple of weeks ago (along with
this dress
,
this belt
, and two cardigans- - I am still reeling), so the gloss has taken over as my favorite lip shade. The earrings are another incredible hand-me-down from my awesome grandmother.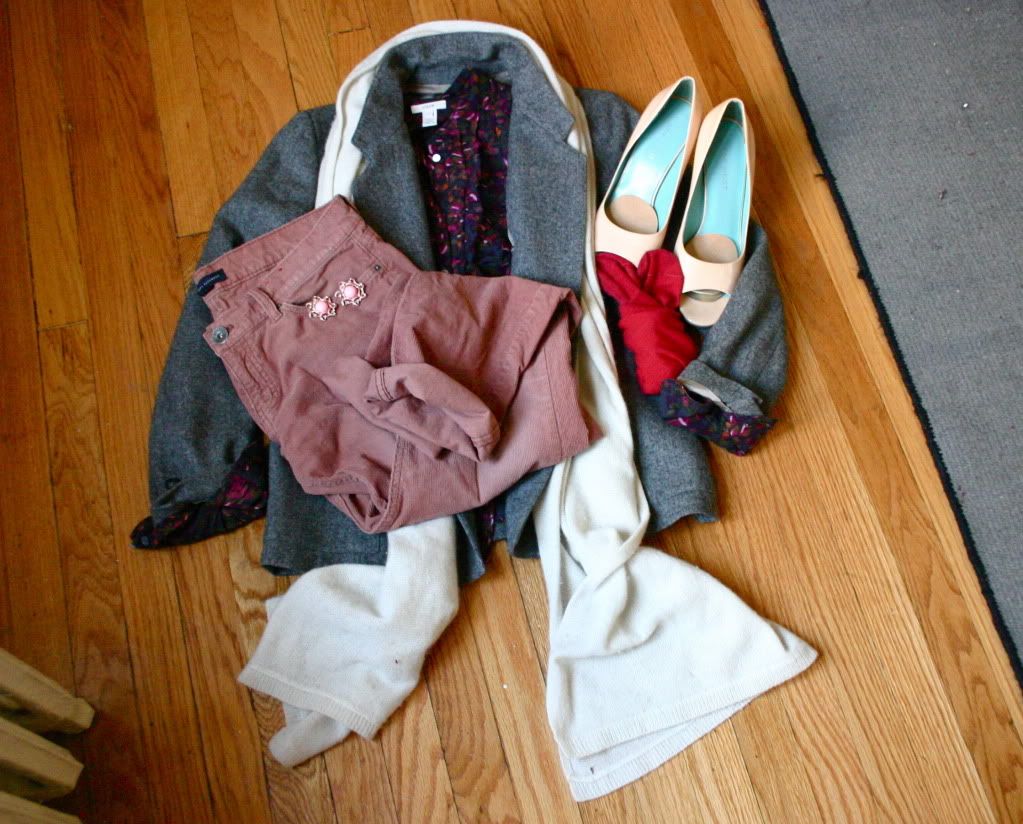 Though the outfit has a lot of beautiful pieces, I am rather proud of how little I paid for it overall. $3.80 (blazer) + $11.00 (pants) + $79.50 (blouse) + $21.00 (scarf) +$3.00 (socks) + $0.00 (shoes, earrings) = $118.30. Not bad at all.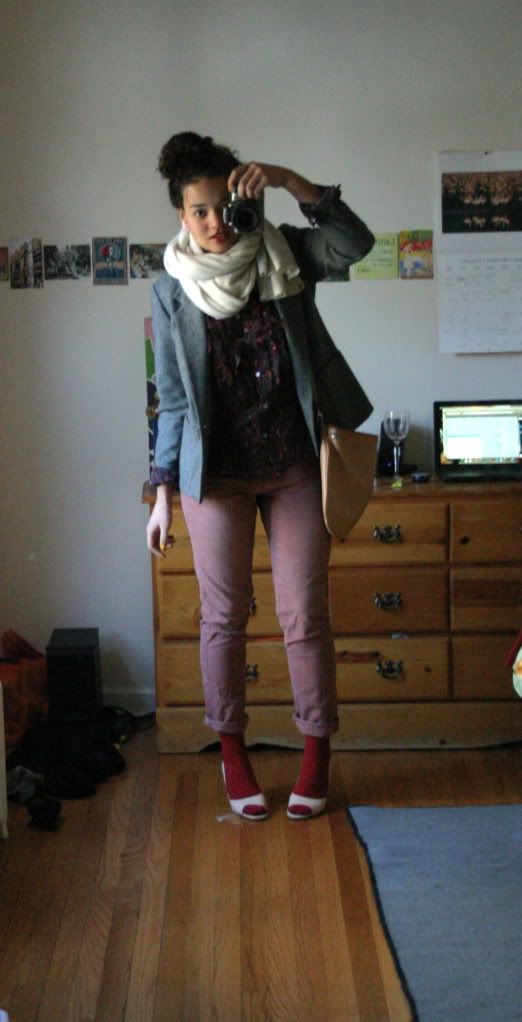 Hope you are all staying toasty.