Headband: H&M
Earrings: bought on the street in New York
Shirt: Banana Republic
Necklace: thrifted/borrowed (thanks Emma)
Blazer: Target
Skirt: Banana Republic
Shoes: Bandolino
Nailpolish: OPI, Jade Is The New Black

I wore this outfit to work yesterday for Halloween (with a couple minor modifications including a belt and some tights). I wanted to wear orange and black, but couldn't find an orange top that was seasonally appropriate. Then I remembered that I'd just bought this pink ruffle-y number and hadn't had a chance to wear it yet. Normally I wouldn't be caught dead in black and pink, I think it's a giant cliche, but for some reason I liked the combination anyway.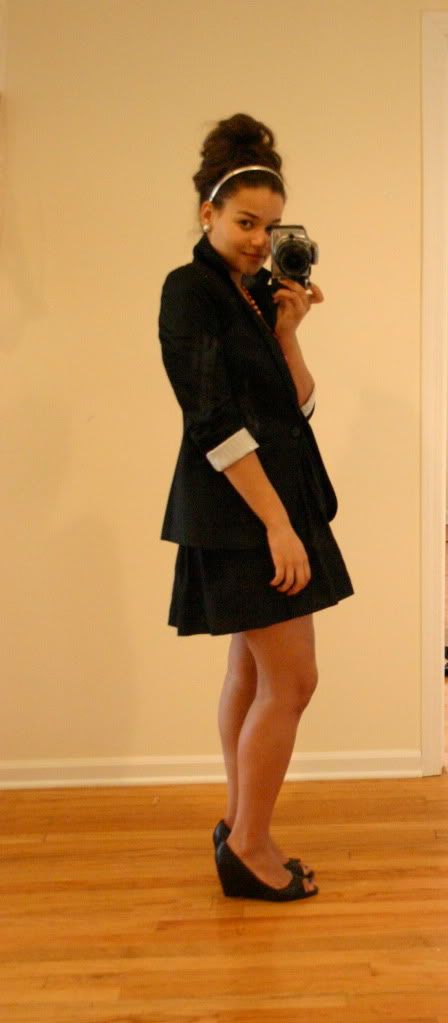 I also wore flats instead of heels (it was the morning after a very long Halloween-themed dance party and my feet were a weeeeeee bit tired), but I've always liked these and haven't found a post to work them into yet. Very demure for black platforms, but I think that's why I like them.
My major Morning-After Hair was begging for a poufy bun, so I threw it up with a bunch of bobby pins and put a headband on the front to hide my unruly baby hairs.
(Does anybody else have this problem?? They're so fluffy and short and they WON'T grow! I never know what to do with them...)
Emma and I found this necklace the same day as
the orange one from my last outfit post
- we both wanted them both, so we decided she'd buy one and I'd buy the other and we'd jointly own them. It's been a perfect arrangement so far :)
The one button blazer was first featured
way back here with my middle-of-July Halloween-y looking outfit
, and remains a major closet MVP. Thank god for Target.
Happy Halloween, lovebugs!