[image taken by Miss Katie Barthelow, Sept. 26 2010]

Shirt: Target
Tank: Gap Body
Belt: thrifted
Skirt: Banana Republic
Shoes: thrifted
Necklaces: J Crew
Ring: Banana Republic
Earrings: vintage/gift (thanks Gram)

My 23rd birthday celebrations began this Sunday evening with a wonderful party thrown by my wonderful roommates. I came home from an exhausting day to find candles everywhere, fresh flowers, streamers, spice babycakes, bowls of fall candy and cider with rum brewing away on the stove. It was perfect and I'm so so thankful.
I wanted to wear something unnecessarily dressy (if you can't dress up for your own birthday party then when can you?!), and I've been waiting for an unnecessarily dressy moment to wear this awesome top I found at Target a couple of months ago. I also love black and white ensembles in general - I think I've worn black and white for every birthday I've had for the past four years.
This little ensemble was designed around the shoes (I found them thrifting with my Mom in Ann Arbor for $10!!). They're flashy and fun, the perfect balance of futuristic and 80s new wave. And the little heels were comfortable to walk around in all night long.
Even though the army green necklace breaks up the black/white pattern I thought it looked so lovely over the lace. A nice touch of a color that would ordinarily be as neutral as white or black, except that it was the brightest color in the whole ensemble!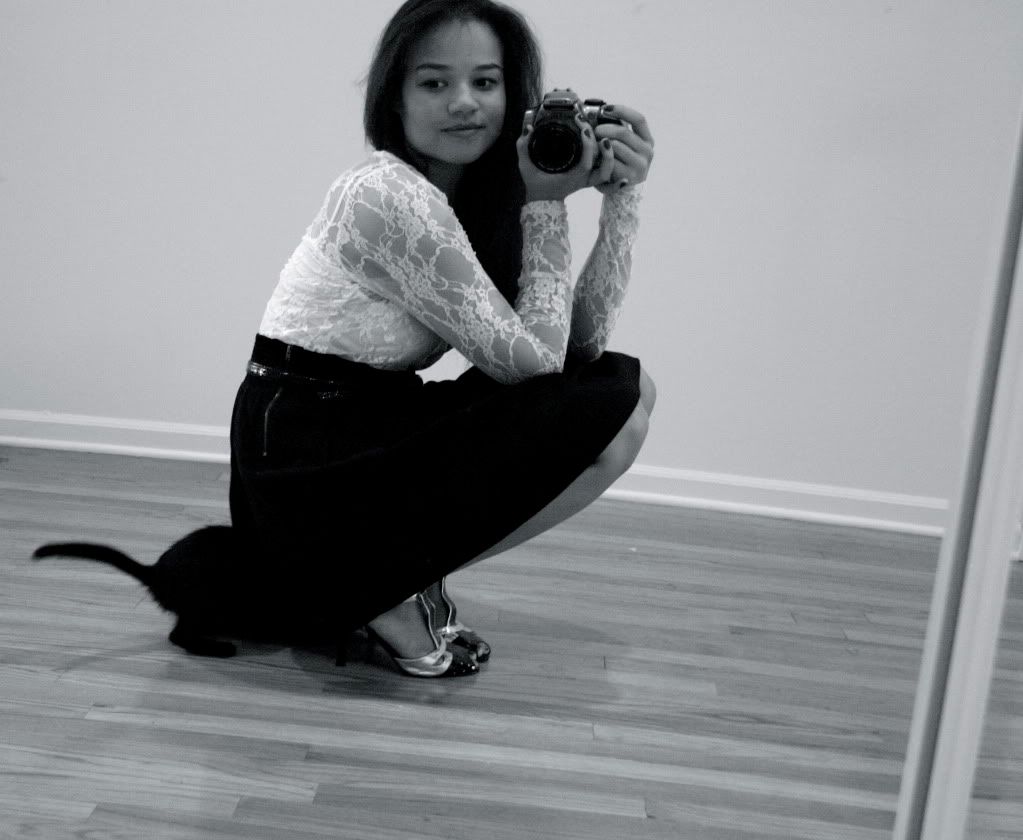 (That little tail you see creeping out from under my skirt belongs to Olive, the newest member of our little house. She's about 2 months old and needless to say makes taking pictures a little bit difficult. She's so cute that I don't even care.)
I'll be heading to New York City in a couple days for a massive reunion/birthday party with some of my best friends in the world, so look forward to lots more pictures of the celebrations!