Made my Mom's apple pie for the first time this fall! It was a delicious success. The crust was doughy in the middle and flaky on the outside, the apples were sweet and delightfully browned. Recipe below!
[Just a warning, I bake like I cook: I am inexact, messy, and often accident-prone. My directions are imperfect and at times vague, but I hope you can make some sense of them.]
Preheat oven: 350
Crust
4 cups flour
1 cup butter
3/4 cup shortening
1/2 cup water
1 beaten egg
1 tbs. vinegar
1 tbs. sugar
1 tsp. baking powder
1 tsp. salt
1. Sift & mix in large bowl: flour, baking power, salt, sugar
2. Cut in butter and shortening with a knife until mixture is crumbly
3. Slowly mix in water, egg and vinegar
Filling
6-8 Gala apples, peeled
Cinnamon
Nutmeg
Sugar
Brown sugar
1 tsp. vanilla extract
1. Cut up apples into various sized pieces
2. Place apples in mixing bowl and add all other ingredients to taste! (I use TONS of cinnamon)
Assembly
1. Divide dough into two 3/4 and 1/4 pieces
2. Smush or roll the 3/4 piece until it's about a quarter inch thick
3. Place crust in bottom of pan, pour in the apples
4. Use the remaining 1/4 piece to create braids, lines, circles, hearts, whatever you want!
5. Place in preheated oven for 35-50 minutes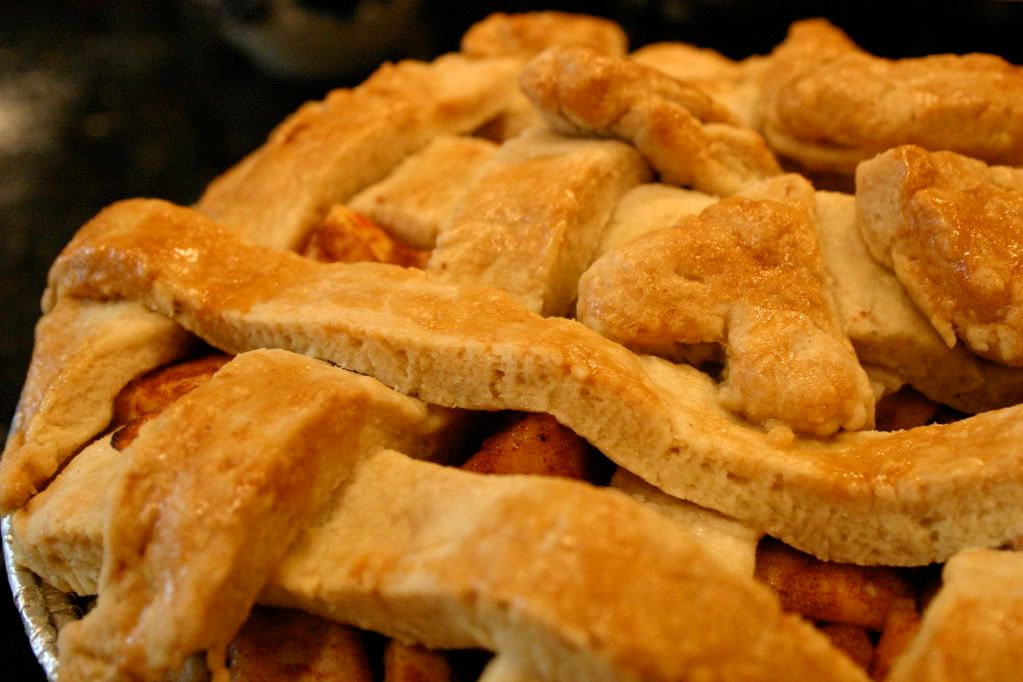 Voila!