Cardigan: Ann Taylor (thanks Mom)
Shirt: H&M (thanks Emma)
Pants: Forever 21
Belt: H&M
Necklace: Handmade by my best friend Bizzy (thanks Biz)
Shoes: Lela Rose for Payless
Toe nail polish: Essie, Shop Till I Drop (thanks Emma)
When I take a step back and look at it, it's truly incredible how many of my favorite clothes have been gifts or hand-me-downs. No matter the day or occasion, I can usually look down and spot at least one piece of my outfit that was gifted.
How beautiful are the beads on this necklace??
My roommate Emma gave me this yellow shirt a couple of days ago and I immediately started planning an outfit to use it with. I had also been working on finding some clothes to go with this gorgeous necklace my friend Bizzy made me for Valentine's Day in 2007 (she is incredibly good with making accessories), and it seemed like the two items would mesh together perfectly.
I suppose the best occasion to wear this outfit would be on a date - the pegged black jeans and high high green polka-dotted wedges give it an air of pin-up, and the cardigan softens it up a bit. A good blend of saucy and coy. I could also wear it to work if I swapped out the black jeans for some black skinny chinos. Of course I can't wear it yet because I'd melt even walking outside my apartment in it, but for the fall...I'll definitely be giving it a try.
Funnily enough, the gold belt is 10 years old and the first item I ever bought at H&M (it's totally falling apart but I wear it anyway). Even more hilarious, the first person to take me to H&M was my Dad - even the men in my life have lead me to some of my fashion obsessions.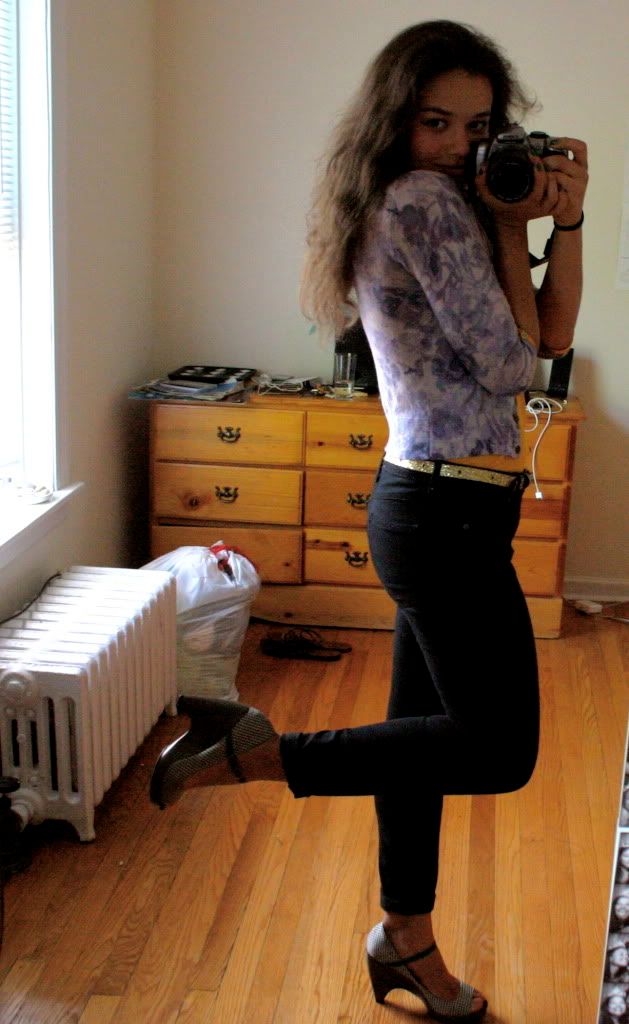 A large thank-you to my very cool friends and family for these gems.