Hat: Banana Republic
Necklace: World Market (thanks Mom)
Sweater: Thrifted/gift (vintage Marshall Field's tag inside the neck!) (thanks Mitch)
Shirt: Target
Pants: Forever 21
Shoes: Sperrys
Bag: Lucky
I've worn this outfit a couple of times, usually to do low-key, solitary things: grocery shopping, library trips, long walks outside. I originally thought it was too casual to post, but the more I considered it the more I realized that it's one of my favorite and most consistent outfits. It may not be glamorous, but it's a true example of What I Wear.
This hat made its first appearance on my blog
here
, and really has been a major MVP this summer. The shoes are also a summer staple, as is the necklace. Honestly that's probably why I've worn this outfit so frequently: it's full of staples that are easy to throw on and feel put together in. The shirt is an XXL and huge on me, but the sweater keeps it from ballooning toooooo much.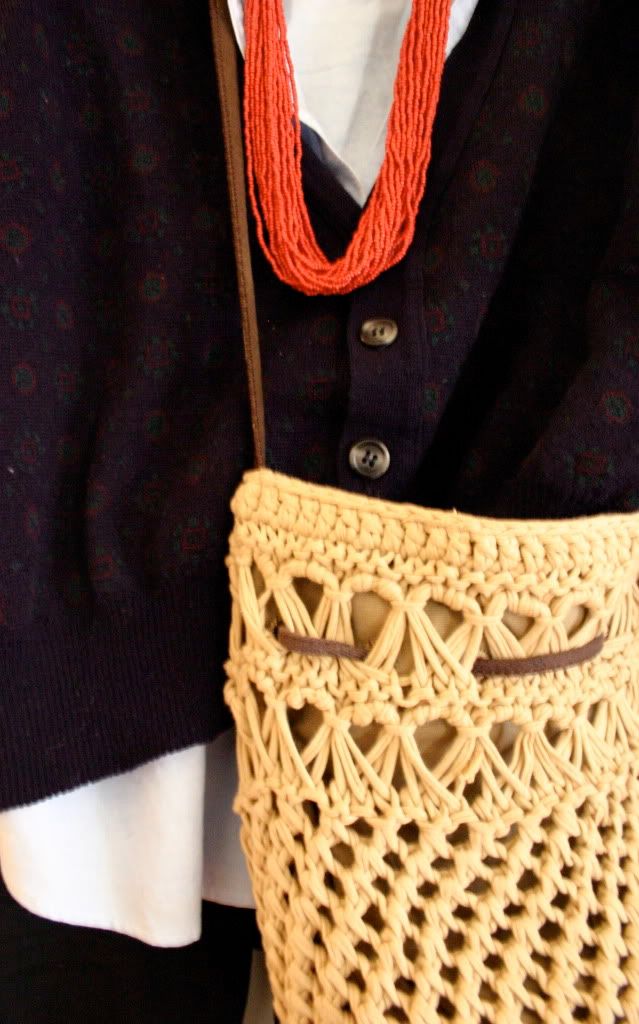 The sweater was found in a Wicker Park thrift store by my dear friend Mitch - he accidentally hot dried it and it shrunk like crazy, so I got dibs! It's admittedly way too hot for summer, but I'm stubborn and just sort of ignore that fact. It's all shrunken and purple and vintage-Marshall-Fields-y, how can I not wear it all year round?!?!

A note: I know it's so silly to have your camera be in pictures with you. Totally amateur, but alas, I have to take my own pictures for the time being and I don't really have the proper equipment to do it with. I promise I'll get a damn tripod soon, and when that happens the pictures will get infinitely better. Bear with me til then?
These Forever 21 jeans are everything you'd expect: cheap, tight, and cheap again. But hey, they work. I'm actually in the market for a higher-quality pair of black skinny jeans this fall, if some of you lovely people have any suggestions!


(Another note: These pants are a size 12. Unremarkable fact, except for two things: a) I am a size 6, which is an indication that Forever 21's sizing system is totally whack. I know they're geared towards a younger market but COME ON, it's not like I do the rest of my shopping at Chico's. I am a 6-8 at comparable stores like H&M/Zara, and that jump seems huuuuuge to me! b) If you're bigger than the F21 version of size 8, you're plus size. I don't even know where to start outlining how massively messed up this is.)
Other places I'd like to wear this: trolling art museum galleries, paddleboating, to a cider mill when it cools down.